What might have been.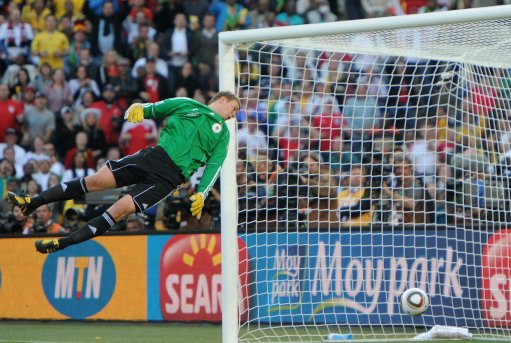 HAVELANGE SIGNALS MORE CHANGE
June 1st 1996
For how much longer Joao Havelange will be FIFA President, no one can say. Already in the job some twenty two years, Havelange has had a long and influential presidency, implementing widespread change in the game.
In surely his most radical scheme yet, he has sanctioned the go-ahead for a revolutionary new trial: goal line technology. It won't be in place for next weeks' European Football Championship of course, but sources say that if successful, it may well be implemented as soon as the start of the season.
The President stated that with the abundance of technology available there was no reason that trials shouldn't begin as soon as…
HOWARD SENDS SPIREITES TO WEMBLEY
13th April 1997
Chesterfield secured a dream date at Wembley with a 3-1 win over Middlesbrough at Old Trafford. This relatively small match in the context of world football will delight FIFA bosses after controversial new measures introduced at the start of the season, goal line technology, ensured Chesterfield striker Jonathan Howard's was it/wasn't it goal was allowed to stand. The Spireites and their fans can now look forward to a May 17th date with Chelsea who…
CARROLL HOWLER COSTS UNITED
January 4th 2005
Pedro Mendes looked almost embarrassed to celebrate his extraordinary fifty yard strike that was virtually thrown into the net by United's Roy Carroll. However, referee Mark Clattenberg and Assistant Ray Lewis – who were miles away from the goal at the time – turned to the TV control room. Retired referee and TV Assistant Jeff Winter quickly informed Clattenberg via their new intercom headsets that it was indeed a goal.
The system has been lambasted from all sides in recent years, with figures both in and out of the game condemning it for taking the pace out of the game. With this seasons' changes, the process has garnered more support. With barely a five second delay, the system seems to have ironed out its earlier creases…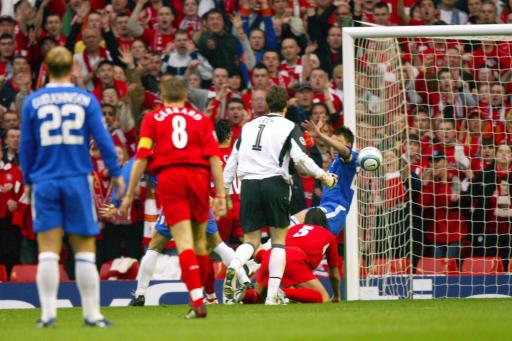 CHELSEA BEAT MILAN TO SECURE TREBLE
May 25th 2005
Captain John Terry's decisive spot-kick condemned A.C Milan to final defeat in a nail-biting penalty shootout in Istanbul. After an entertaining game that ended after 120 minutes 2-2, the game went to spot kicks. With victory, a tearful Terry hoisted the trophy aloft with Frank Lampard, whose two goals had twice put Chelsea ahead, only for the awesome Andriy Shevchenko to level both times.
Afterwards Blues boss Mourinho said he believed it was Chelsea's 'destiny' to win the trophy. He claimed the gods were with them, citing Luis Garcia's disallowed goal in the semi-final against Liverpool – by means of a much improved goal line technology system – as the moment he knew his side would win the Champions League, securing the club an historic treble…
HEARTBREAK FOR BRAVE LIONS
June 27th 2010
After a devastating opening half hour, England began the fight back. First Upson scored with a header. Hopes raised, England went on the offensive. Frank Lampard's rasping drive from range went to the TV replay. None of the players had any doubt, but all faces in the arena turned to the big screen. Every fan held their breath. The black screen turned white and the GOAL!!! indicator sent England fans into raptures.
The young German team, visibly shaken by this roaring comeback from a far more experience England side, were only too glad to get in at half time level, with both Lampard and Rooney coming close to putting England ahead before the whistle.
Defoe was replaced by Peter Crouch an hour in and his impact was felt immediately. Mertesacker, clearly unsure of how to deal with this spaghettified new threat, hauled Crouchy down just outside the area. Several players hovered, but Lampard took control and blasted England into the lead.
It was all going so well, but Germany's bright spark throughout, Mesut Ozil, weaved some magic and set up Mueller for the equaliser with five minutes to spare.
After a stale half hour of extra time, the ref blew for penalties. Gerrard, Lampard, Barry and Defoe cancelled out penalties from Ozil, Klose, Podolski and Schweinsteiger. German captain Phillip Lahm squeezed his penalty underneath the body of James, who'd gone the right way. The hopes of a nation rested – not for the first time – on the shoulders of Wayne Rooney.
Swaggering forward, he seized the ball, placed it on the spot and retreated. Staring out the goalkeeper, Rooney took a breath, stepped quickly forward and thumped the ball off the bar.
Despite all the tears, England fans will at least be proud of their warriors…
(Come on, not even goal line technology is enough to help England past Germany!)
MYSTERY SURROUNDS POSITION OF HOULLIER
April 2nd 2011
Not for the first time this season, goal line technology showed its rightful place in the modern game. At 1-1 the game was poised. Step forward Jermaine Beckford. The former Leeds front man hasn't enjoyed the most fruitful start to his Everton career, but a thunderous strike that smashed the bar and bounced just behind the line – verified by TV Assistant Alan Wiley – handed Everton the lead. As if buoyed by this, Beckford went on to grab a second, sealing…
After the game, reports swirled that Gerard Houllier had been sacked, with many sources claiming that he needed to get something out of the game to keep his job. The much maligned Frenchman refused to comment when questioned at the post-match press conference…
MADRID CLOSE GAP ON BARCA
April 2nd 2011
Jose Mourinho's 150-game, nine year unbeaten home run continued as Real beat Sporting Gijon 4-0. The game got off to a great start for Madrid. An early free kick curled to the back post was kept in and former Chelsea defender Ricardo Carvalho swept home for 1-0. However, with Real players celebrating, the referee blew his whistle after the assistant flagged for a goal kick.
On the sidelines, Mourinho seemed unaware of the situation at first, but quickly used up Real's first appeal. Of course, since being introduced at the start of the season, the three appeal system as used in tennis, has been a bit hit and miss, with just as many advocates for the process as opponents. Here, however, justice was done and Real claimed their one goal lead.
Before long it was two, with Mesut Ozil latching on to a through ball from compatriot Sami Khedira…