White Hart Lane boss hopes to sign Eastlands striker.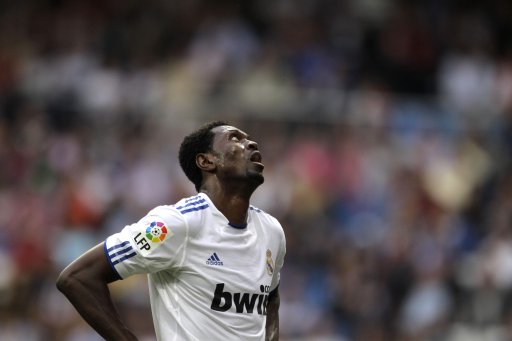 Tottenham boss Harry Redknapp will attempt to lure Man City striker Emmanuel Adebayor this summer. Jose Mourinho is reportedly unlikely to pursue a permanent move for the Togo international after an indifferent spell on loan at the Bernabeu and a move back to Eastlands seems unlikely given the other strikers ahead of him in Roberto Mancini's pecking order.
White Hart Lane boss Redknapp is not happy with his current crop of firepower and could well look to offload one or even two of his quartet of attacking options. Robbie Keane is currently on loan at West Ham and has stated his desire to stay at Upton Park if the East London side avoid the drop.
Roman Pavlyuchenko is said to still be unhappy at not being a regular starter, despite being the club's most prolific striker this term and a move back to Russia may be on the cards with the likes of Zenit and former club Spartak Moscow said to be interested in the 29 year old.
Peter Crouch and Jermain Defoe remain Redknapp's preferred strikers but neither have proved effective this term, especially in Premier League action and as a result the North London club have set their sights on a number of striking targets but have failed to capture those they have made concrete moves for.
Mancini may move to prevent Adebayor joining a team that Man City would consider a threat to their ongoing top four hopes but the Italian may also elect to cash in on the former Arsenal man rather than have an unhappy player in the dressing room.
Man City are said to be looking to receive at least £15m for the 27 year old who they purchased for £25m just under two years ago. Before being loaned out to La Liga giants Real Madrid, Adebayor had managed just two Premier League starts this season.