The Bosnian FA threatens to stop the great progress of Bosnian Football.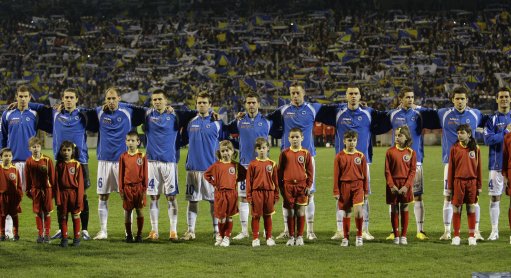 The Balkans were plagued with conflict during the Yugoslavian Wars of the 1990s. Bosnia and Herzegovina gained their independence in 1992. The years following its independence were still riddled with war as well as huge social and cultural tensions over ethnicity due to the displacement of peoples during the war.
Now, since the split from Yugoslavia, Bosnia is starting to make an impression on the international stage. Croatia are a great example of a new team gaining independence and performing well internationally, and Bosnia look set to follow in their footsteps.
Tensions over ethnicity are still running high in the region. It will take many years and plenty of effort to try to remove the problems that ethnicity has caused. This is similar in the whole of the Balkans, not just in Bosnia.
This could start in Bosnia as they are currently suspended from FIFA due to their organisational structure with three presidents that are picked by their ethnicity rather than professional attributes. This needs to be changed in order for their ban to be lifted. While banned they cannot play any international games. The current structure has led to the boycotting of the national team by some players and fans.
The Bosnian side played fantastically during the 2010 World Cup Qualifiers coming second in a tough group including Spain, Turkey and Belgium. This gained them a playoff place, where they were drawn against Portugal. The Portuguese won 2-0 on aggregate with a couple of victories by a single goal margin.
The current squad has a decent crop of players. Emir Spahic of Montpellier is Captain of the National team and has been linked with a move to Arsenal, Miralem Pjanic is a playmaker and set-piece expert for Lyon. Vedad Ibisevic is a striker currently at Hoffenheim in Germany, he has struggled with injuries but is still fairly prolific for the Germans, scoring one approximately every three games. Zvjezsan Misimovic is the team's Vice-Captain who now plays for Dinamo Moscow after helping lead Wolfsburg to the Bundesliga title and a short spell at Galatasaray. And of course there is Edin Dzeko, the tall, powerful striker, who we are hoping to see plenty of in the Premiership.
They have been handed an interesting group in the qualification for Euro 2012. Having already gone down at home to France 2-0, they faced their next biggest game of the group against a troubled Romanian side who have not been performing at their best in recent years. After winning this game they put themselves 1 point behind second place with a game in hand. Hopefully they can alter their FA's structure in time for their next qualifier against Romania in June.
Generally football in the region is on the up. Croatia have led the way but Serbia are also becoming a stronger side, though they failed to impress at the World Cup. However, their domestic leagues are not improving at the same speed. This is fair enough given that they have only been independent for just over 15 years.
It will take a while for Clubs to establish themselves in communities and develop their facilities and garner decent resources. Croatian football is making progress, with Dinamo Zagreb appearing fairly regularly in Europe and Hajduk Split there or there abouts. They were knocked out of this year's Champions League qualification rounds, by Partizan Belgrade, the Serbian giants.
I appreciate that there are many social problems still in the region. But there is still huge potential for the development of Football. Everyone with a relation to the region should do their utmost to promote the game. With the right investment the Bosnia can look forward to a vast improvements in international and club football. The reason I argue this is the case for Bosnia in particular is because they have the chance to build from a lower base as they only gained independence in relatively recent years.
This could help set the precedent of putting social problems such as ethnicity aside, allowing for the blossoming of football in the area and a very bright future for the region as they look to compete with the top European performers. The FA needs to reorganise to comply with FIFA's regulations or they risk destroying a team that is progressing superbly. Some fantastic individuals have come out of the Balkans; perhaps soon we will see the emergence of great teams.