Stamford Bridge striker responds to angry supporter.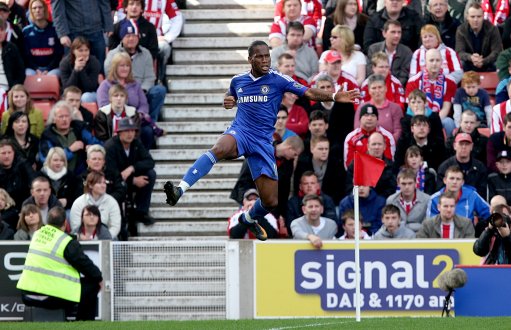 Didier Drogba unleashed a devastating verbal volley at a mouthy Chelsea fan after the final whistle of Saturday's disappointing 1-1 draw with Stoke. Drogba who had earlier levelled the match for Chelsea with a fine header elected to take a short corner in the dying seconds of the game, the decision not to loft the ball into the box enraged a nearby Chelsea fan who gave the striker a tongue lashing. Following the full time whistle the Ivorian angrily confronted the fan and was involved in an ugly shouting match. He furiously told the fan to say what he had said to his face but the fan suddenly became a shrinking violet and refused to repeat his earlier remarks. His Chelsea teammates were forced to step in and dragged the irate Drogba down the tunnel before the situation got out of control.
This is not the first time the fiery front-man has courted controversy during his career and isn't even the first time he has confronted a Chelsea fan. He famously goaded a fan behind the goal who had heckled him after a poor miss when he scored the winning goal for his team. Aside from clashes with fans he is frequently involved in heated incidents with other players, none more so than Manchester United's Nemanja Vidic. One of these incidents saw Vidic lose a tooth in 2008 when Drogba appeared to aim an elbow at the Serbian, while the other major incident saw Drogba red carded deep into injury time in the Champions League final for a cowardly slap to the face of the United defender. He has also been heavily criticised for advocating diving once saying in an interview "Sometimes I dive, sometimes I stand".
The Chelsea star has suffered a remarkable loss of form having started the season at a blistering pace and now sees himself being linked with a move to the MLS in the summer. With only one year left on his current contract and no sign of an offer from Chelsea it's looking increasingly likely he'll depart from Stamford Bridge after 7 years service and 142 goals to his name.