Bernabeu player says he never won over the Eastlands supporters but admits he was sad to leave the Emirates.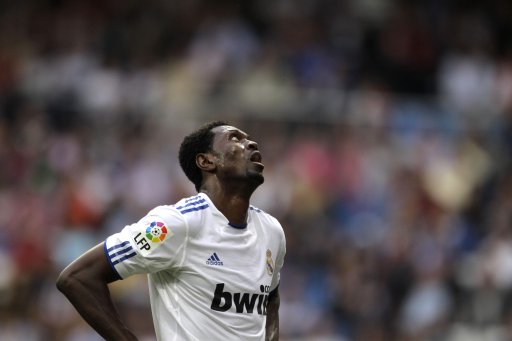 On-loan Real Madrid striker Emmanuel Adebayor says he never won over the Manchester City fans but is still loved by Arsenal supporters.
The 27-year-old joined City from North London for £25million in 2009 but failed to establish himself in the Eastlands starting XI.
He was sent on-loan to Madrid in January with a view to a permanent deal in the summer.
But the Togo international claims he is happy now he is at Madrid because the fans adore him.
Adebayor believes the City supporters never liked him and regrets leaving Arsenal, who he thinks still love him.
"When I first joined Manchester City, I was very happy," he said. "At the beginning, everything started very well. I was pleased, I was playing and I was scoring goals.
"Suddenly we had a game against Arsenal and you all know what happened. From then it went downhill for me.
"It was a difficult moment for me. We changed the bosses: Mark Hughes left, Roberto Mancini came along and it was even more difficult.
"But today the difference between leaving Arsenal and going to Manchester is that at Arsenal the fans loved me. I think even today they love me.
"When I come to Madrid, I feel the same atmosphere. I feel the fans love me here as well."
"It was a tough moment when the club (Arsenal) asked me to leave," he added.
"It was the most difficult moment in my life because when I grew up my dream was one day to play for and stay at Arsenal and all my dreams stopped there.
"I did not go beyond Arsenal. I know there are a lot of bigger clubs than Arsenal but it was my dream because my hero, Nwankwo Kanu, played there.
"So my dream was to play for them as long as possible.
"But when I came back from holidays and they told me that I had to leave the club, it was very difficult for me.
"After that, there was interest from Manchester City in me, so I went there. I was very happy."