Bernabeu player is happy in Madrid but could make a return to England.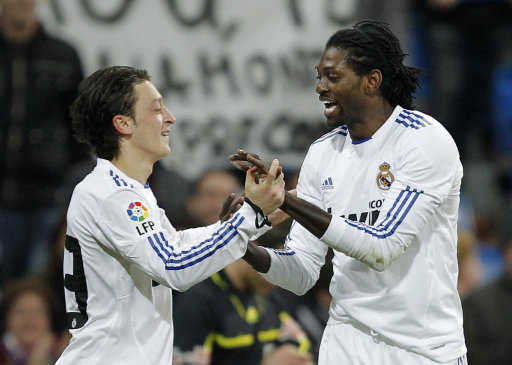 On-loan Real Madrid striker Emmanuel Adebayor is open for a return to the Premier League despite being happy in Spain.
The 27-year-old joined Manchester City from Arsenal for £25million in 2009 but failed to establish himself in Roberto Mancini's disciplined side.
He was sent on-loan to Madrid in January with a view to a permanent deal in the summer, but it is unclear if manager Jose Mourinho will take up the offer.
Adebayor admits he is happy in the Spanish capital but is keeping his options open as return to City is a possibility.
"I have been playing in England for five years, I had the chance to play in France for a couple of years, so it is a good time for me to play in Spain," he said.
"If I have the chance to go back to England one day, why not?
"I will never throw England away. I love the football, I love the atmosphere, but don't get me wrong – I'm very happy where I am.
"The future will show where I go but, for now, I am just happy to be on the football pitch again, playing football.
"That's all that matters now. We will talk in the summer about what I am going to do about my career."