Anfield reserve denies transfer rumours though Twitter.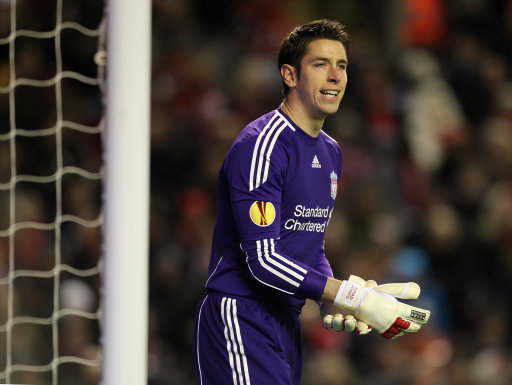 Keeper Brad Jones will leave ­Liverpool at the end of the season – a year after his move to the Kop.

The Australian, who is currently on loan at Derby, was signed by Roy Hodgson but has fallen out of favour with boss Kenny Dalglish and his backroom staff.

Source: The Daily Mirror
Liverpool goalkeeper Brad Jones has angrily denied speculation that he is leaving Anfield at the end of the season.
The 29-year-old was linked with a move away in today's Daily Mirror but has used social networking site Twitter to put the record straight.
"What idiot decided to put in the daily mirror that I'm going to leave liverpool? Completely untrue and really a poor attempt at a story…," Brad_Jones1 tweeted.
The goalkeeper has endured a torrid season so far and has been sent- on-loan to Derby County.
He has not been able to displace number one Pepe Reina and was in goal when Liverpool embarrassingly lost on penalties to Northampton Town in the Carling Cup.