A.B.B. Anyone But Blatter!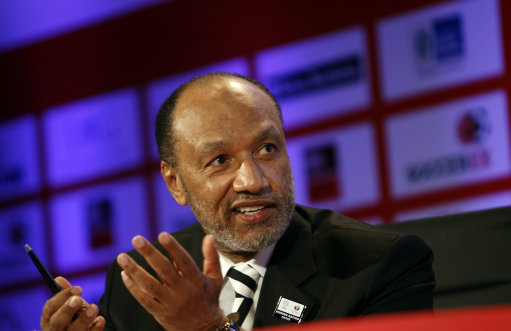 Mohamed Bin Hammam has been confirmed as Sepp Blatter's only challenger in Fifa's presidential election on 1 June.
The 61-year-old Asian confederation chief announced in March that he would stand against Blatter, 75, as head of football's world governing body.
Blatter has been president of Fifa since 1998 and recently pledged that if re-elected for a fourth term, he would step down at its conclusion in 2015.
The president will be elected at a Fifa Congress, which starts on 31 May.
Fifa had set a deadline of 1 April for all candidates to be nominated and the winner will require a two-thirds majority of the valid votes cast in the first ballot, or a majority in the second.
Bin Hammam is Blatter's first challenger since African confederation president Issa Hayatou took him on – and lost by 139 votes to 56 – in 2002.
There are 208 Fifa voters for this contest and the Qatari, who played an influential role in securing the 2022 World Cup for his home nation, rates his chances of becoming the the ninth president of Fifa and the first from Asia as "50-50". (BBC Sport)
It may be fair to say that anyone who ran against Sepp Blatter would right now get the majority of the football loving public's vote regardless of who they were and indeed, what they stood for. After holding the reins at FIFA for 13 years most of us have had just about as much as we can stand of the Swiss buffoon and one can only hope that football's world governing body realises that change is needed and acts accordingly.