World and European Champions could face Brazil and Argentina.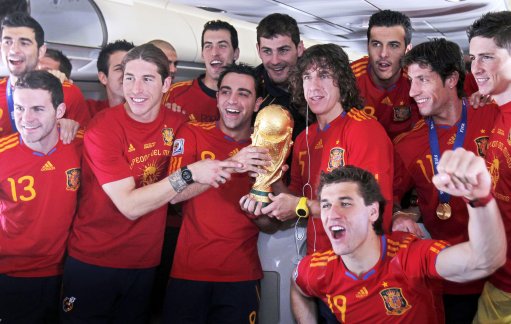 The World and European champions Spain have been asked to replace Japan in the Copa America this summer.
This opens up the possibility of the number one nation playing Argentina and Brazil in competitive fixtures.
Japan have withdrawn because of the earthquake and tsunami which destroyed the east coast of the country.
The tournament contains the 10 members of the Conmebol federation plus two other countries from other associations, usually Mexico and the USA.
But Japan's late withdrawal has opened up the possibility of Spain entering and being in a group with the hosts Argentina, Bolivia and Colombia.
But the Spanish soccer federation president Angel Maria Villar will have to pass it by the board as there will be a number of administration difficulties.
"Yesterday we received the official invitation, and we don't rule it out," Villar said at an event in Barcelona, according to local media.
"Next week or the week after we will determine at a meeting of the board of directors whether we will accept the invitation.
"I don't rule anything out when the request is made with affection and love, but at the same time taking into account the difficulties," he added.
"That doesn't mean we are going or not, but as president I have the obligation to take it to the board."