Emirates and White Hart Lane boss's supposedly keen on Napoli striker.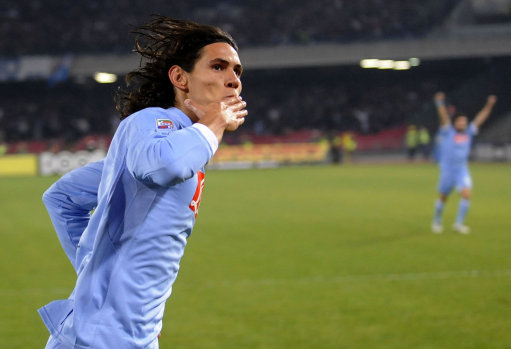 Edinson Cavani 'set to attract bids from Spurs, Arsenal and Man City'
Scouts from England, believed to be connected to Spurs, Arsenal and Manchester City, watched striker Edinson Cavani score a hat-trick for Napoli in their 4-3 win over Lazio – prompting rumours of a number of bids this summer.
The Uruguayan, who is currently on a season-long loan from Palermo, has been continually linked with a number of top-flight English clubs.
But the prospect of a move to the Premier League looks to be closer than ever, as Cavani's performance is sure to see rave reviews heading back to Harry Redknapp, Arsene Wenger and Roberto Mancini.
All three managers are looking to recruit a top-rated forward to bolster their squads in the summer, although a price-tag in the region of £25million could put off Gunners boss Wenger.
Spurs supremo Redknapp will be given a transfer warchest for the summer – although the size of it depends on whether the north Londoners qualify for the Champions League or not.
SOURCE: Metro
Clearly Tottenham and Arsenal could both do with a consistent goal scorer for differing reasons but will either side really snap up this Uruguayan hotshot? It seems unlikely. Napoli striker Edinson Cavani has netted a hugely impressive 25 goals in 31 Serie A starts this season and has become a crucial part of the club's hopes of securing their first domestic title in over 20 years and it's no surprise that the former Palermo man is is now linked with a move to one of Europe's giants.
Arsenal have a number of attacking options but in many ways Arsene Wenger has a great many issues with all those strikers within his current squad. Robin Van Persie is clearly a high quality striker and when fully fit he is a handful and arguably one of the best in the business. However the Dutch international is more often than not unfit for action and the Gunners boss may be getting tired of continually being without his number one goal getter.
Marouane Chamakh started his Premier League career with a bang but has since shown a severe drop in form and looks half the player he was in the first two months of the season when he could do no wrong. Nicklas Bendnter is getting fed up with the lack of first team action and may well elect to leave the club to get regular first team football. Carlos Vela had a similar problem as the Dane but has shown what he is capable of out on loan at West Brom and in the long run he could yet make it at the Emirates.
A move for Cavani would involve Wenger having to spend big money and probably would involve breaking the club's transfer record and most Gunners supporters will tell you that simply won't happen, which is probably very frustrating for the club's faithful support who want to see the Frenchman spending the club's ample resources on established talent and not the umpteenth teenage prodigy.
Tottenham boss Harry Redknapp was linked with a myriad of approaches for top strikers in January but failed to land a single one of his targets. Jermain Defoe, Robbie Keane, Peter Crouch and Roman Pavlyuchenko have all failed to impress this season, leaving the club's attacking midfielder to pick up the goalscoring slack, but there is only so much the likes of Rafael Van der Vaart and Gareth Bale can do.
23 year old Cavani seems content to stick with Napoli in the immediate term but the likes of AC Milan and Real Madrid are also said to be keen on the powerfully built forward. Manchester City are also ready to sign yet another striker to add to their rapidly growing collection.