On-loan Bernabeu star does not want to return to Eastlands this summer.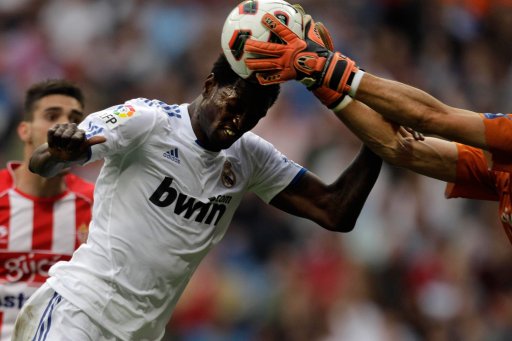 On-loan Real Madrid striker Emmanuel Adebayor wants to move to the Bernabeu on a permanent deal and not return to Manchester City.
The 27-year-old did his chance of summer switch no harm by scoring a brace in the 4-0 Champions League victory over Tottenham Hotspur.
The Togo international joined City from Arsenal for £25million in 2009 but failed to establish himself in the starting XI.
He went on-loan to Madrid in January and has struggled so far scoring once in 10 appearances for the La Liga giants before last night's double.
Adebayor says he wants to stay in Spain but is not sure whether any deal is possible.
"At the the moment I am enjoying myself and at the end of the season I will see what happens," Adebayor told Sky Sports.
"I'm not under pressure at all, and at the end of the day I still have a contract with Manchester City.
"My main aim is to play football, and I'm here, I'm playing, I'm very happy.
"Yes, I would love to stay here, but you never know in football what will happen next."