Sir Alex Ferguson keen on bringing Goodison Park star to Old Trafford.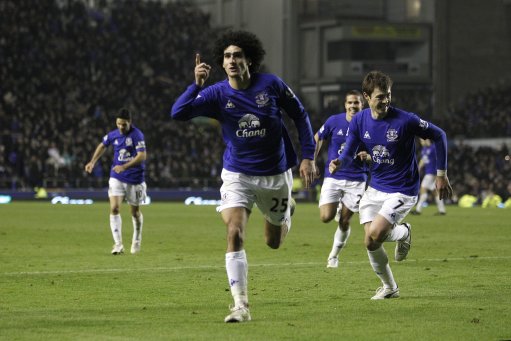 Manchester United boss Sir Alex Ferguson is interested in signing Everton star Marouane Fellaini. The Belgian international is reticent to sign a new deal and Toffees boss David Moyes is reportedly worried that the talented midfielder will attempt to force the club to sell him.
The 23 year old has expressed his dissatisfaction at the way things are panning out at Goodison Park with the Merseyside club struggling financially and the very real possibility that big name players must once again be sold to balance the books. Chairman Bill Kenwright has told Moyes that unless a new buyer is found this summer then serious cutbacks will take place which could see the likes of Leighton Baines and Jack Rodwell sold.
Ferguson is known to be a fan of Fellaini and was linked with a move for the big central midfielder before he left Standard Liege for Everton for a fee of £15m in September 2008 and appears keen on making an offer for the Belgian who's current deal ends in 2013.
Marouane Fellaini's multi purpose talents have also attracted the interest of Real Madrid boss Jose Mourinho and a bidding war could ensue if Everton feel they have no choice but to sell. The strong midfielder is a useful attacking weapon who scores his fair share of goals and is also adept at breaking up opposition advances.
Man United could well do with more steel and bite in their midfield especially with Owen Hargreaves likely to leave in the summer when his contract comes to an end. Ferguson also has the likes of Darren Fletcher, Michael Carrick and Anderson to field in the central role but the Scot still has his eyes set on strengthening that position.
Real Madrid are said to be willing to offer around £22m for Fellaini and Ferguson would have to be willing to match or better that offer as clearly a move to the Bernabeu would tempt anyone.