After doing the best Premier League XI last week I thought it was only right this week I do the worst! So here it goes.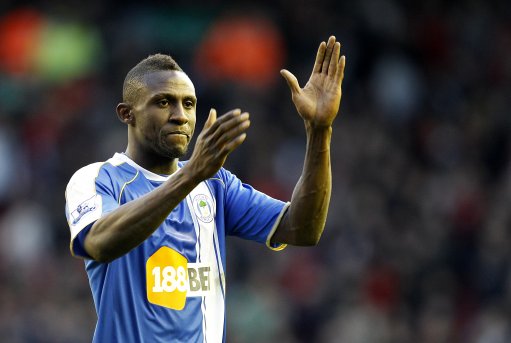 In goal I don't think you have to look further than one of Fabianski or Almunia, both of whom have been poor at best. Fabianksi in particular must have Arsenal fans nervous wrecks every time he plays with his poor decision making. Almunia hasn't played as much as Fabianski but when he has you know there's always a glaring error just around the corner as proved when they played Westbrom only a few weeks ago where he came racing out of his goal when there was no danger and in the end that ended up costing Arsenal two points which could be huge come the end of the season. Fabianki edges it for me though just for the simple fact he's played more games than Almunia.
Now the defense. For right back I'm going with Steve Gohouri of Wigan. He has very poor positional play, some may say he's a centre back by trade but that still doesn't get away from how bad he has been and I can think of more than one occasion where he's been at fault for goals they've conceded, when teams play Wigan, managers must tell there teams to attack Wigans right side and that down to Gohouri. My centre halves are Sol Campbell and Sebastien Squillaci. Campbell may not have played much this season but when he has done he looks every much of 36 year old defender who's past it and who's legs have gone, now I don't want to be too critical because he has had such a fantastic career but am afraid this season has just been one too many for him. Squillaci also was meant to be the experienced defender Arsenal were craving but instead he looks like a shaky teenager making his debut every time I see him. Sorry Arsenal fans but am going to pick on your team again and because I don't think there's been a bad left back am going to stick Laurent Koscielny there, to be fair to him he's had his good games i.e. vs Barcelona at home but then other times you see him he makes goal costing error's like vs Birmingham in the League cup final, he reminds me of how Titus Bramble used to be, one extreme to the other.
Midfield now, first off is Stephen Ireland, being a Newcastle fan myself I hope we can get the best out of him between now and the summer but that doesn't get away from being pretty abysmal so far. Part of the deal that took Milner to Man City, Aston Villa thought they'd got a great deal in bringing Ireland in but with managerial changes and injuries taking their tole he just hasn't look the player he was two years ago. My next pick is Gareth 'England captain for the day' Barry, I always hear people say how good Barry is and how crucial he is to England and Man city but I think Liverpool will be counting them selves lucky they didn't get him! Barry can a pass a but he slows everything down, he's the odd one out at City, they play with three holding midfielders but if they took Barry out for say Adan Johnson you'd have a well balanced team. Also for me he should be nowhere near the England set up and he probably won't be 6 months down the line with emergence of Scott Parker and the young talents Tom Huddlestone and Jack Rodwell. The last midfield position speaks for it's. Joe Cole was the star signing Liverpool needed, they beat Arsenal and Manchester United to his signature, gave him a reported 100 grand a week and what has he done? Got sent off on his league debut and missed a penalty in the Europa League, I think that's all I have to say on Cole's impact this season.
I am going for a front three in the form of Jermaine Defoe, Fernando Torres and Gabriel Agbonlahor. I know some Spurs fans will argue that Defoe was injured at the start of the season but to only have two Premier League goals to your name by April for a striker like Defoe you know he's had a poor season, another reason why he hasn't had as many goals as he would of like is the partnership formed by Peter Crouch and Rafael Van der vaart. Fernando Torres, 50 million pounds Chelsea spent on him, Liverpool must be laughing once again, he looks nothing like he did just a few year back and Chelsea will be hoping he will eventually come good but for this season overall for Liverpool and Chelsea he looks weak, off the pace and most importantly shot of any confidence, personally I expect him to come good, but not this season. Gabriel Agbonlahor might seem a harsh one because he gets shoved out on the left wing a lot but at the start of the season he was playing upfront and has just offered nothing, now at 24 he has time to improve but it wouldn't surprise me, stay up or go down, if Villa try and offload him and despite his poor season, they'd be a host of clubs after his signature.
Fabianski
Gohouri Campbell Squillaci Koscielny
Ireland Barry J.Cole
Defoe Torres Agbonlahor
So there you have it, my worst XI of the season, what's yours?
Follow me on Twitter; http://twitter.com/DanielArnold7