COS heads to Stamford Bridge for the best tie of the Champions League quarter-final.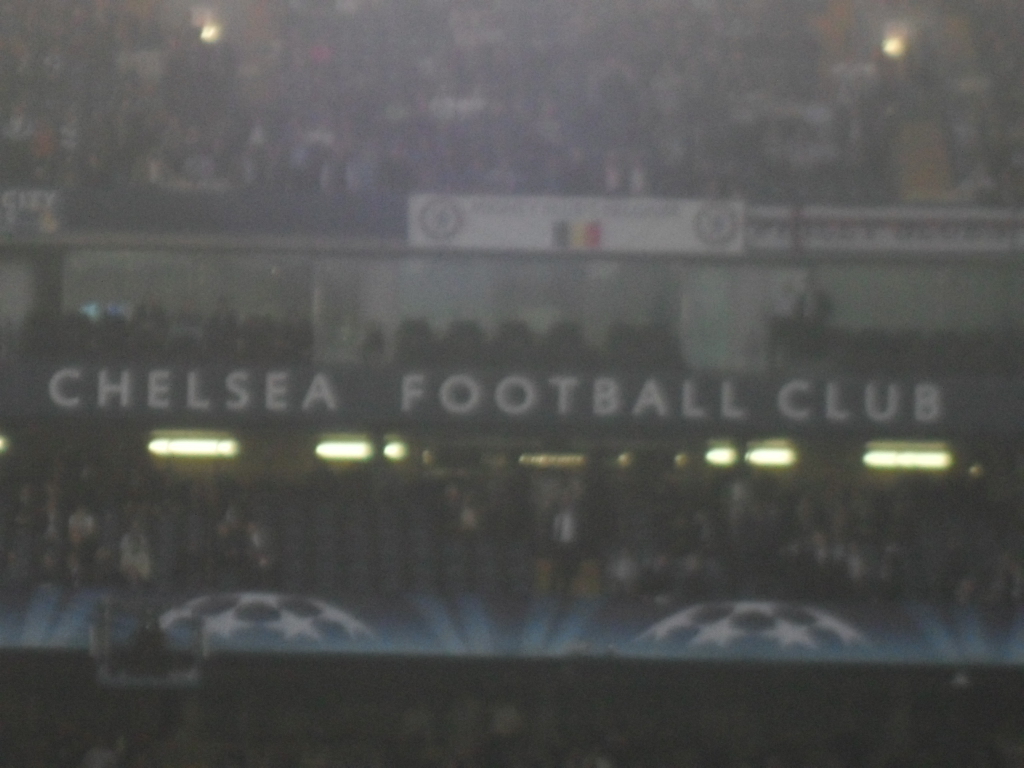 Standing in a packed District Line tube, surrounded by a sea of blue shirts as far as the eye could see, there was a whiff of confidence so strong it was bordering arrogance.
Chelsea fans were in good spirits, and in good voice, and they had every reason to be – Manchester United were in town and it was Champions League quarter-final time.
Talking with Blues' fans they certainly were confident of a win but they also knew United had to be respected despite the Red Devils not winning at Stamford Bridge since 2002.
They felt that after all the near misses (against Liverpool and Barcelona) and ill-fortune (against Liverpool and Barcelona), this was their year to be the first London team to win the Champions League.
All the chat was about who would start up front. Didier Drogba and Nicolas Anelka have done the business for Chelsea in the past and know each other's and the team's style of play.
'But surely Fernando Torres will score?' they said, and after 11 hours and 36 minutes of not finding the net, the law of averages must be swinging in the Spaniard's favour.
Emerging from Fulham Broadway station and onto a very sunny Fulham Road there was a strange singing echoing along the street.
A group of six men, beers in hand, were dancing with shirts on emblazoned with 'Blue Brazilian Brigade' and chanting in Portuguese for David Luiz.
The London Blues were cheering along but they were all to be disappointed as their hero was cup-tied. The Brazilians still had Ramires to sing for, and Rafael (if it would not upset their new friends too much).
The good and the great from all sports did not want to miss this game. Olympic gold medal rower James Cracknell and rugby World Cup winner Matt Dawson were present, although they nearly missed it because of an over-zealous security guard. Blues' legend Michael Ballack was in attendance too, maybe he was hoping for a late call-up.
This may have been a Champions League match but it was pure Premier League excitement that made this tie all the more intriguing.
There were several sub-plots to this game: Rio Ferdinand and John Terry playing together for the first time since the England captaincy reversal; Torres and Nemanja Vidic commencing battle once more; Carlo Ancelotti defending his record of seven wins and three losses against Sir Alex Ferguson.
Another matter was Wayne Rooney. After all the controversy over his foul-mouthed rant at a TV camera, he was back in action. And all the pressure, and limelight, was on him.
He was booed throughout the game and was kicked several times early on that had Fergsuon off his feet and berating the fourth official.
The game kicked-off to a huge roar from the crowd and Chelsea pushed on hoping to catch the visitors cold.
But United are a dogged animal and slowly grew into the game. Then after 24 minutes disaster struck for the Blues faithful.
A wonderful diagonal cross-field ball by Michael Carrick was taken superbly by the veteran Ryan Giggs, who's touch took it past Jose Bosingwa, and passed it to that man Rooney. 0-1, and an all-important away goal.
The goal seemed to take the air out of the Chelsea supporters who remained flat throughout the first-half. United fans were obviously buoyed by the goal.
Credit must go to the Red Devil followers who never stopped singing throughout the game, and gave a splendid mix of support for their team and taunts to the opposition.
The Chelsea players were shocked and their midfield was being overrun. Critics may point to their age, but with an average of 27.75-years-old compared to United's 30.25, it is no excuse.
Chelsea were clueless up top. Drogba and Torres still look like strangers, while Ramires, despite playing well, constantly drifted inside, upsetting the balance of the team's shape.
But just before half-time was their chance to pull level. Drogba cuts in from the left and crosses but Torres and Edwin van der Sar cannot reach it. It hits the post and rebounds to Frank Lampard with the goal at his mercy. But Patrice Evra clears.
A goal then could have changed the whole complexion of the second-half but it was not to be. Half-time and Ferguson is by far the happier manager.
The biggest cheer of the game came at half-time, when Gianfranco Zola appeared to a standing ovation, even from the United faithful. A classy touch.
The Zola cameo must have energised the Chelsea team as they came out all guns blazing. This galvanised the crowd too who rediscovered their voices to cheer on their players.
But Torres still looked woeful. Chelsea fans are now getting a look into an Arsenal supporter's world when they have to watch Nicklas Bendtner play. Capable of brilliance but generally does the first bit well before making a complete mess of it.
Torres the new Bendtner! Only in football.
Chelsea piled on the pressure and threw on new players Nicolas Anelka and Florent Malouda but the United backline, Ferdinand and Vidic in particular, stood strong.
But the substitutions look to have paid off as Torres had the chance everyone was waiting for. The Spaniard smashes a header across the face of goal and is heading for far corner,
But Van der Sar makes a truly wonderful save – why is he retiring again?
The crowd continue to roar on the home team but to no avail. Everyone seems to have given up hope but then bang!.
Ramires is brought down under a challenge from Evra. This was the first-time the Red Devil supporters fell silent. Only for a second, but it must have felt like a lifetime as they awaited the referee's decision.
It was good news for them as the Alberto Undiano Mallenco waved play on after receiving no help from his additional assistant referees.
There was still time for a Torres impression of Chris Ashton's swan dive for which he was promptly booked. Perhaps a bit harsh considering there was contact but certainly not a penalty.
The Spaniard should have been booked for diving in the first-half after a 'tackle' from Vidic. But you cannot blame Torres for trying to win his side a penalty after playing so poorly for 90 minutes. For the record it is now 13 hours and six minutes since he last scored.
So off the fans trudged back to Fulham Broadway station along Fulham Road. They were disheartened and certainly less quiet then when they arrived.