Much needed Tangerines striker back from suspension.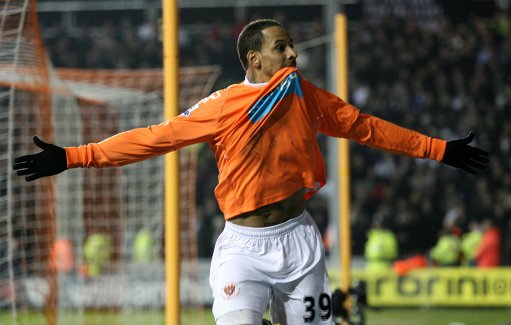 Blackpool striker DJ Campbell is available again for the weekend clash with Arsenal. The terrier like forward has been suspended since his dismissal in Blackpool's 4-0 defeat to Wolves on February 26th. His comeback has been hampered by international fixtures falling between games in the recent period. However, he is raring to go again and intends to fire the tangerines to safety.
Speaking to the clubs official website Campbell talked of his combined emotions of frustration and regret: "The last six weeks have been hell for me, when I'm not playing football it's not a good thing. I need to be playing".
"Obviously I regret it. I get kicked all the time but I don't know why I reacted in that way, I play with a lot of passion and want to win and sometimes you let things get the better of you." said the 29 year old. Blackpool have surprised many this season with notable performances against many of the top sides including wins over both Liverpool and Tottenham. However, their recent form of just 5 points from a possible 18 has left them flirting with the relegation places.
Fans will hope the return of the crowd favourite will spark a push back up the table. Campbell has contributed 9 goals so far this league campaign and sits top of the clubs league scorers along with Charlie Adam. His goals have been crucial for the club including the one pictured above, where he grabbed the only goal of the game to earn the three points against Stoke.
"We have got seven games left and hopefully I can score the goals to put it right. I let the boys, the club and myself down and I've been thinking when I get back I've got to do as much as I can." This will come as music to the supporter's ears that see Campbell's return as a huge boost for the clubs survival chances.
Sources Sky Sports and Blackpool Official Website