St James' Park favourite believes his past misdemeanours are counting against him.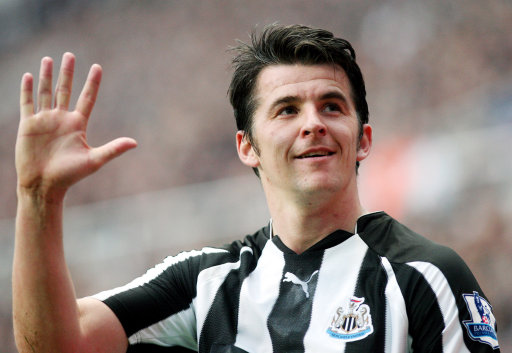 Newcastle United midfielder Joey Barton is uncertain why he has not won more England caps as he is the best in the country.
The 28-year-old singled out Manchester City star Gareth Barry for special criticism claiming he is a teacher's pet.
Barton has been a controversial figure throughout his career at both Manchester City and for the Toon Army.
He has been sent to prison, put team-mate Ousmane Dabo in hospital and had a bust-up with former manager Alan Shearer.
Barton, who has one England cap against Spain in 2007, believes his past misdemeanours are counting against him.
"Honestly, I think I'm the best [English midfielder]," Barton told the French magazine So Foot.
"Luka Modric and Samir Nasri are very good.
"But in terms of English players… well, Jack Wilshere isn't bad, but Frank Lampard's on the way down and Steven Gerrard's been injured a lot."
"I'm English and I love playing for my country.
"Maybe the people at the top have a problem with me. I don't know. But the trouble I had was four years ago.
"They should be able to forgive, shouldn't they?
"Did you see the game against Germany at the World Cup?" Barton added.
"If you watch the fourth goal, when [Mesut] Ozil was up against Barry, it was like the hare and the tortoise.
"Barry's got a very good agent. He's also discreet and always agrees with the manager.
"He's like the guy who sits in the front row and listens to the teacher. I certainly don't lose any sleep when I play against him."