St James' Park cult hero has a bright future.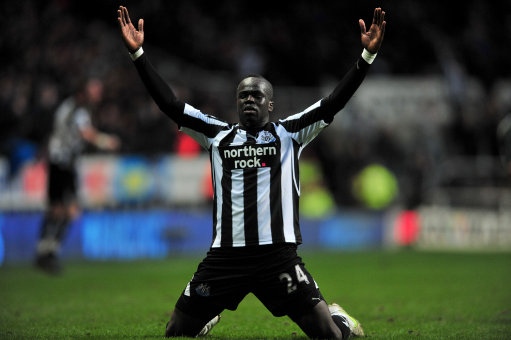 Cheik Tiote I think it's safe to say has been a revelation since his summer move for FC Twente and few would argue he has been Newcastle's signing of the season and probably the bargain signing of the Premier League this term.
Now I'm a Newcastle fan so I think I speak for a lot of people when I say he is one of Newcastle's most important players and that shouldn't be taken lightly considering where he came from and how much people expected of him when he first arrived. With Cheik in the team I feel we are more complete and I don't mean to be harsh on Danny Guthrie or Alan Smith but I always feel more confident when Tiote's playing.
A player that Tiote also seems to get the best out of as well is Kevin Nolan and Kevin must love playing in midfield with him as he knows he can bomb on and make all those runs that get him goals and have the security of Cheik behind him marshalling the back four and to stop any potential breaks. Considering the role he plays it would be easy for him to go diving in to tackles like Smith does but he doesn't, he stands his ground which makes him a lot more effective and much harder to get past because of amazing strengh – Didier Drogba once said Tiote was the strongest player he'd ever faced, that says it all!
It's not just his defensive work that impresses me it's his range of passing, he can play nice simple passes and keep things ticking over or he can also hit a great long pass as well, something that Nicky Butt could never quite do, no matter how many times he tried them. One pass in particular vs Arsenal where he picked the ball up in the centre of the pitch and pinged it over to Danny Simpson who was on the run and it ended up with Simpson forcing a good save from Wojciech Szczesny always sticks in my mind. So combine all them things and with the fact that he has pace as well makes him for me one of the best defensive midfielders in the country when he's on his game, in my opinion of course.
I did start to wonder however if he had a decent shot on him but them worries were soon put to bed after that magnificent goal vs Arsenal where Newcastle from a stunning 0-4 down to draw 4-4 in a game which will live long in the memory not just for Newcastle and Arsenal fans but football fans around the world.
His new six-and-a-half year deal was just reward for his performances this season and with the likes of Tiote, Enrique, Barton, Nolan and Coloccini we have a real platform going forward and a great core to build a team around and the summer is a great chance to start building that team.
Follow me on Twitter; http://twitter.com/DanielArnold7