Nice way to appease angered supporters.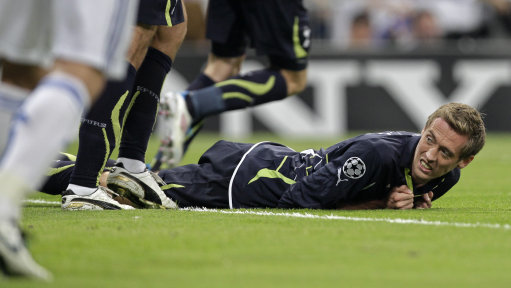 In a touch of real class from the Spanish giants, stadium bosses decided to run a highlights package especially for the Spurs supporters – who were kept back for more than 40 minutes after their 4-0 drubbing in Madrid.
Stadium policy for Primera Liga clubs dictates that away fans must be kept behind until the majority of home fans have dispersed, in order to prevent potential problems or clashes between rival supporters.
Spurs supporters probably enjoyed watching the Bernabeu big screen more than the pitch in Madrid
So, to keep their visitors entertained, Real thought it'd be a nice thing to do to give them something to watch.
And what better way to cheer up a down-in-the-dumps Spurs fan than to show his team beating the Gunners – the one team he hates most in the world?!
SOURCE: Metro
Now there are two ways to look at this. One, Real Madrid are complete gentlemen for allowing Tottenham supporters to wipe away their tears after a thumping by showing them videos of past victories against Arsenal or Two, it would appear that this was pre-planned as though those who control the big screens at the Bernabeu clearly felt a crushing win was on the cards and put together a nice package to cheer them up.
Either way, it's a nice touch. Perhaps when Harry Redknapp get's his revenge with a stunning 5-0 whipping of the La Liga giants they can then display videos of Real Madrid wins over Barcelona from El Clasico encounters from the past?