White Hart Lane club likely to escape punishment from Uefa for Bernabeu chants.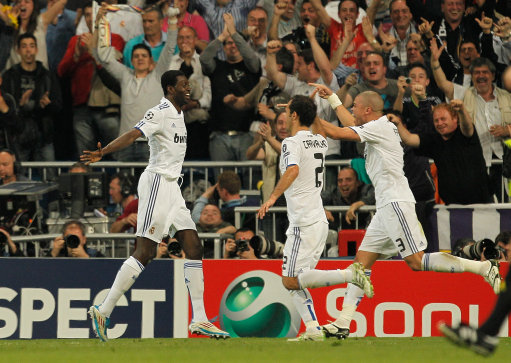 Tottenham Hotspur have denied their fans racially abused Real Madrid striker Emmanuel Adebayor during the Champions League quarter-final.
The 27-year-old says he suffered taunts from the Spurs supporters following his double in Madrid's 4-0 win.
Uefa are unlikely to intervene as the match delegate did not include anything in the report which would trigger an investigation.
A club whose supporters are deemed guilty of racist chanting can be fined a minimum of £20,000.
Adebayor, who is on loan with Real from Manchester City, was singled out by the travelling fans following his three-and-a-half-year spell with Arsenal.
The chant that causesd the furore is: 'Adebayor, Adebayor/Your dad washes elephants, your mother's a whore'.
But the club deem the song not to be racist in nature and have held talks with the Crown Prosecution Service to prove it.
"The chant referred to has been previously discussed with the Crown Prosecution Service, who do not consider it racist," a spokesman said.
"We shall continue to remind our fans that we do not tolerate any form of obscene or abusive chanting."
Adebayor conceded the fight against racism is ongoing but "we can't do anything to stop it".