It's the 'Yorkie' of chocolate bars, the 'Barcelona' of European Football and 'The Office' of comedy. It's the race that even gets the housewives excited and reaching for the television remote and their office sweepstake selections at around half past three on one Saturday afternoon in April.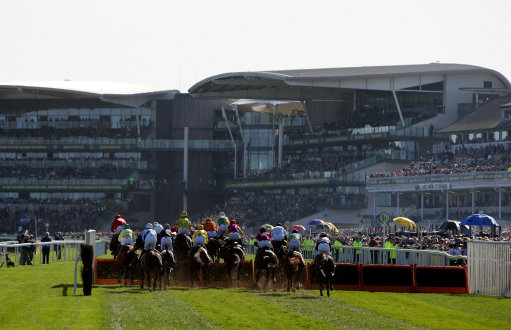 That's right, the Nations's favourite race, the 2011 Grand National is once again upon us and returns this Saturday 9th April at 4.15pm.
Punters and those caught up in the excitement across the country will be eagerly checking their selections and making their last minute bets as the day approaches.
Of course, its not all betting shops, fag ends and Bovril. You can now place your Grand National bets online and in the comfort of your living room. Put the kettle on, take in Saturday Kitchen for 10, stick last nights curry in the fridge and place your bets online, and don't forget to pick up your free bets that are available from online bookmakers.
With a frenzy of betting, bookies are now offering money back specials for you to spend on the National this year. There are a handy selection of free Grand National Bets here, which we highly recommend you taking advantage of. They'll save you money!
If you are feeling lucky you may want to put your bet 'on the nose' which is a bet for your selection to win outright. Obviously, if your horse comes in you win big, but remember, it'll be your round at the bar.
With so many horses racing, you may want to put your bet on each way, which in essence is two bets; you are betting on your horse to win, and betting on your horse to be placed (in the top 5 horses).
So, for example if you want to put £10 each way on Don't Push it at 16/1, the bet will cost £20, that's £10 on the horse to win, and £10 on the horse to be placed (in the first 5 at quarter the odds).
Each way bets offer good value and also reduce the anxiety , stress and fury if your horse is beaten by a head!
So what are our selections for this year's race?
Last years winner Don't Push It, ridden by Champion jockey AP McCoy is sure to get a lot of support at 16/1, while the Irish and trainer Willie Mullins are back in force after a very successful Cheltenham Festival, with the current market leader The Midnight Club backable at a short looking 8/1.
Those looking to back horses from leading trainers may also want to take a peek at the Paul Nichols trained What a Friend, which can be backed at 14/1, but its his stablemate What A Friend who we fancy to come good, and we are putting our money on him at 16/1.
Sit back, take your eyes off Soccer Saturday for 20 mins and take in the thrills and spills of the most famous horse race in the UK, the 2011 Grand National from Aintree.
As with everything gambling related you must be over 18 to place and please bet responsibly.