St James' Park bad-boy reveals his version of events over infamous Eastlands training ground bust-up.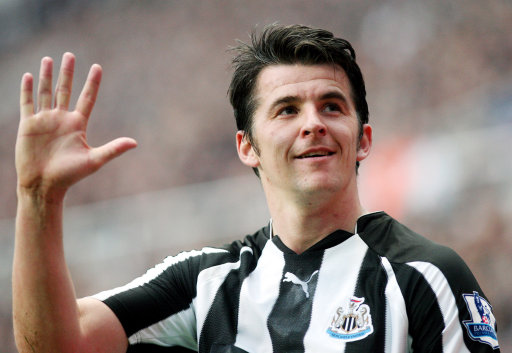 Newcastle United midfielder Joey Barton has reopened his feud with former team-mate Ousmane Dabo and labelled the Frenchman a 'pussy'.
The pair were involved in a training ground fight four years ago while they were at Manchester City, ending with Dabo in hospital.
Barton received a four-month suspended prison sentence
for assault, 200 hours community service and a six-game ban from the Football Association.
The 28-year-old has now given his version of events. He claims Dabo started the fight and the Frenchman should not have pressed charges.
"I have never given my side of the story, but the truth is that he started the fight and I finished it," Barton told French Magazine So Foot.
"Frankly, Ousmane is a little pussy. It's him who hit me from behind with his hand.
"When he did that, I hit him back. It happened just like that, bang, bang, bang and it was over.
"But I am no monster. I don't like fighting, but it's human to defend yourself. The problem was I hit him three times.
"Of course, it was not the best response, but I grew up in the street and when I am attacked, I defend myself. When you fight, there are no rules."
"I wanted to discuss it like men, but he never came to see me and that makes me angry because he told lies in the papers and I was not able to respond," he added.
"There was a late tackle in training and we exchanged a few words. I have an aggressive style and he wasn't happy.
"I told him, 'You are a piece of s**t, don't come looking for me'. He said, 'You are arrogant, you think you're something special'.
"We kept talking and I said, 'Yeah, you're great', but it was sarcastic because he was not playing well, so he slapped me from behind.
"He tried to be the bad boy, but it was him who ended up on the floor.
"I am not proud of that. It's never good to fight a team-mate, but from the moment he raised his hand to me … it's hard to explain," continued Barton.
"If we saw each other tomorrow, we might say, 'What we did was stupid, I am sorry and we should never have fought'.
"I've seen team-mates fighting at least 15 times but City said I had hit him too many times."
Dabo totally denies Barton's version of events saying it was the England international who attacked him from behind.
"I had my back turned when he charged at me and threw a right into my temple, like a coward.
"I was knocked out but, while I was out of it, he grabbed my head and struck me with 10 right-handers from close range.
"In a man's fight it's impossible that this guy – who is half my size – sparks me out with one punch. It was anything but fair."