Magpies boss clearly has a good sense of humour.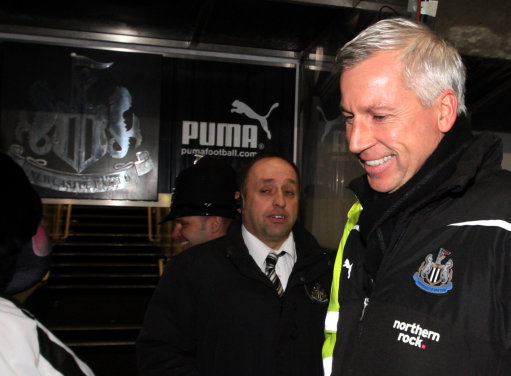 A controversial player, Joey Barton joined Newcastle from Manchester City in a £5.8m deal in June 2007, four months after he had made his full international debut for England.
However, the following year, he served two months of a six-month jail sentence for attacking a man during a night out in Liverpool.
But Pardew has been impressed by Barton: "It's off the pitch that Joey has corrected a lot of what was wrong with him as a professional footballer."
Barton's recent comments have not changed the manager's opinion.
"On the other side of it, if you had people without opinions, without that maverick streak then you wouldn't have talented individuals," he added.
"You wouldn't have Eric Cantona, you wouldn't have George Best – some of these players, their make-up is that individualism." (BBC Sport)
Whilst clearly the Magpies boss is not drawing playing parallels with either Man United hero even making comparisons between Joey Barton and George Best and Eric Cantona in relation to any facet of their behaviour is quite ludicrous.
In case your wondering what comments Barton made that sparked furore, they were as follows.
'Honestly, I think I'm the best (English midfielder).
'Luka Modric and Samir Nasri are very good, but in terms of English players Jack Wilshere isn't bad, Frank Lampard's on the way down and Steven Gerrard's been injured a lot.'
On the subject of his assault of Ousmane Dabo, the hugely friendly 1 cap wonder states.
'Frankly, Ousmane is a little pussy. Where I come from, when you fight there is no rule. You fight 'til it's over.'
Quite a charmer isn't he? Can anyone explain to me how Barton can be compared in any way to Best or Cantona?