Emirates boss linked with moves for Reebok Stadium duo.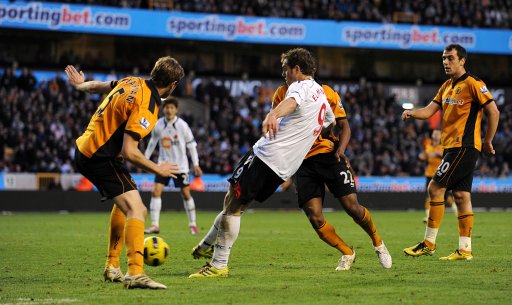 Johan Elmander and Gary Cahill eyed by Arsenal in summer transfer raid
Bolton striker Johan Elmander could be on his way to either Arsenal or Juventus in the summer after Trotters boss Owen Coyle admitted Champions League football could tempt the Swede to leave at the end of the season.
The 29-year-old forward is out of contract in the summer and has been identified as a transfer target by Arsene Wenger's Arsenal, Serie A giants Juventus and Turkish side Fenerbache.
Elmander has refused to be drawn on his future plans, and while Coyle wants to keep the club's £8.2 million record signing, he admits that the lure of European football will be difficult to compete with.
'When the season ends, we will certainly have one last go at trying to persuade him to sign a new contract,' he said.
'But if there is a club out there in the top bracket that can offer him the lure of Champions League football, then he will do what any player would. All players crave that sort of chance.'
As well as losing Elmander, Coyle is also facing up to the possibility of a bigger club poaching England defender Gary Cahill.
After playing his first full 90 minutes for the national team against Ghana last week, Coyle admitted that Cahill will be attracting bids from major Premier League clubs this summer, with Arsenal thought to be keen on the 25-year-old.
SOURCE: Metro
Whilst talk of an Arsenal bid for England international centre back Gary Cahill has been ongoing for some months the idea that Arsene Wenger would also look to snap up another of Owen Coyle's men is slightly surprising to say the least. Johan Elmander has had a good season and is out of contract this summer but quite why the Gunners boss would look to sign the Swedish international is beyond me.
The North London club has a decent set of strikers to select from. Robin Van Persie is of course injury prone but when fit the Dutch international is one of the best in the business and support from Marouane Chamakh, Nicklas Bendtner and Carlos Vela is fairly solid and if Arsenal were to bring in another attacking option it is unlikely to be in the form of a player who will be 30 when the season comes to an end, a player who is hardly prolific, 18 goals in 86 Premier League appearances.
Cahill is valued at around £18-20m and it remains to be seen if Wenger, who is of course notorious for spending frugally, would part with that kind of fee for the 25 year old former Aston Villa man. Arsenal could do with further defensive reinforcements though as new signings Laurent Koscielny and Sebastien Squillaci have not been all the impressive and Thomas Vermaelen continues to suffer with long term injury.