Emirates boss prepares for big summer shake-up.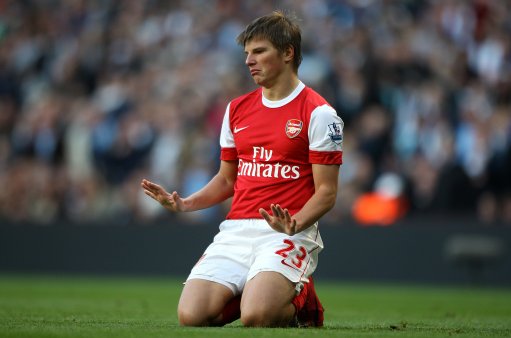 Arshavin, Clichy and Bendtner are Gonners as Wenger planning shock Arsenal clearout
Arsene Wenger will wield the axe in a summer shake-up after finally losing patience with his Arsenal flops.
The Frenchman has given the green light to an end-of-season rebuilding plan at the Emirates which will see a number of the club's top stars depart – including £15million Russia forward Andrey Arshavin, left back Gael Clichy and the self-styled 'best striker in the world' Nicklas Bendtner.
The Arsenal manager will also consider offers for bit-part players Emmanuel Eboue, Tomas Rosicky, Abou Diaby, Denilson and the goalkeeper with whom he persevered for so long, Manuel Almunia.
Wenger's belief in his current batch of Gunners stars had been staunch despite their six-year trophy drought. But a sequence of one win in seven that has seen the Gunners lose the Carling Cup final to Birmingham City and crash out of both the Champions League and the FA Cup has forced the manager into a rethink.
Sportsmail understands influential members of Wenger's backroom team floated the idea of selling a number of the club's underachievers to raise money for new signings.
Wenger is primed to show his ruthless streak with a clearout and there is a feeling Bendtner has had enough time to prove his worth, with the Denmark striker so often failing to fulfil his promise.
Arshavin's arrival in January 2009 was heralded as a major coup but he has struggled to replicate his dazzling Euro 2008 displays.
Sportsmail revealed last month that the Gunners feared the worst in their attempts to persuade Clichy to sign a new contract and will sell him in the summer rather than risk letting him leave on a free transfer in a year.
Arsenal hope to recoup as much as £35million from player sales this summer and Wenger has already told chief scout Steve Rowley to instruct his global network of scouts to identify targets. Some are already in Wenger's sights but yesterday he gave an impassioned defence of his record, insisting being second in the league is not a 'disaster'.
SOURCE: Daily Mail
This source also stated that Everton full back Leighton Baines, Blackburn youngster Phil Jones, German international keeper Manuel Neuer, Lille wonderkid Eden Hazard and Southampton teenager Alex Oxlade-Chamberlain are the players Arsene Wenger intends on bringing in during a spending frenzy that is of course quite unlike the Emirates boss given that the Arsenal boss is known for his frugal moves in the transfer market.
Whilst Arsene Wenger may well look to make changes this summer it seems unlikely he would axe a significant portion of his squad. The French boss clearly still wants to keep Gael Clichy and contract talks are ongoing but if the full back is sold then they have a ready made replacement in Kieran Gibbs.
Manuel Almunia does however seem to be sold after making a catalogue of errors over the past two seasons. Andrei Arshavin has actually improved in recent weeks and still has a lot offer and claims to not be homesick, a claim that countless publications have stated.
Abou Diaby is a player who frustrates many, the midfielder has obvious talent but continually opts for the wrong decisions in the final third but the 24 year old still has something to offer. Nicklas Bendtner however appears to be running out of time at the club and may actually be keen to leave the club in pursuit of regular first team football, something he has failed to secure during his time at the club.
Of the five players linked with a move to the Emirates, the likes of Hazard and Chamberlain seem the most realistic as they are the types of players that Wenger likes to bring in, players with great potential and the ability to continue their career progression at a higher level.