Stamford Bridge new boy set for quick sale?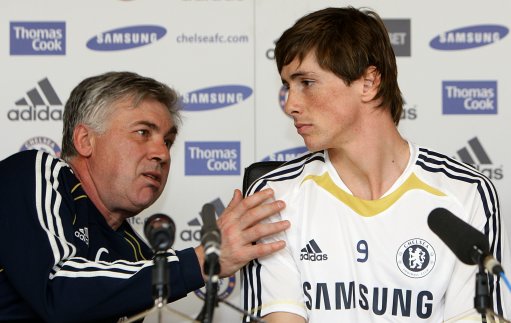 Chelsea owner Abramovich may sell Torres the flop as £50m nightmare goes on
Roman Abramovich is already going cold on £50million flop Fernando Torres and will consider selling him this summer.
The Chelsea owner drove through the record-breaking signing of the striker from Liverpool in January in the hope that he would make the club a force in Europe.
But after losing to Manchester United in the first leg of their quarter-final in the Champions League last Wednesday, Abramovich's patience is wearing thin.
A Chelsea insider said: 'I know the owner is not happy with his investment. He could even sell Torres in the summer, despite having just bought him.'
Torres has failed to score for Chelsea despite spending 648 minutes trying and he squandered good chances when he came on against Wigan yesterday, as Carlo Ancelotti started with Didier Drogba in a 1-0 win.
He has looked a shadow of the player who took the Premier League by storm at Liverpool and Abramovich is aware that interest in the former Atletico Madrid player remains strong in Spain.
It would be a climbdown for the Russian to give up so soon but he will listen to offers if he sees no improvement before the end of the season.
SOURCE: Daily Mail
This would be quite some shock and it seems unlikely that Chelsea would consider selling a player so soon after forking out such a huge fee for the Spaniard's services. Apart from anything else the West London club would struggle to find a side willing to spend anything like £50m for the 27 year old. Roman Abramovich is however not a man who will put up with failure for too long.
648 minutes without a goal is quite a long time but things can change very quickly, the former Liverpool man could get a run going before the end of the season and perhaps this nightmare patch will be long forgotten. Indeed if the striker netted at Old Trafford all would be forgiven, but of course Carlo Ancelotti may opt to drop the misfiring front man and thus further his woes.
Didier Drogba and Nicolas Anelka started yesterday's game against Wigan, which saw the Blues edge past weak opponents thanks to a Florent Malouda goal. The form of Daniel Sturridge on loan at Bolton will however please Ancelotti, the youngster has netted six times in seven starts at the high flying Reebok Stadium side.