White Hart Lane side under financial pressure to retain Champions League spot for next term.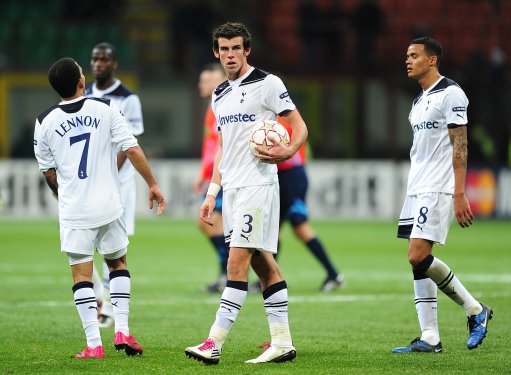 TOTTENHAM are ready to cash in on hot property Gareth Bale in the summer – a decision which will spark a flood of interest from home and abroad.
Despite insisting they are not a selling club there is a realisation in the Tottenham boardroom that any bid in excess of £30million would have to be considered.
It has alerted Manchester United and Liverpool together with continental big guns like Inter Milan and Real Madrid.
Failure to finish in the top four and another tilt at the financially rewarding Champions League will hit Spurs hard in the close season.
With the on-going problems of a cramped White Hart Lane failing to generate the match-day cash that neighbours Arsenal, for instance, enjoy, Tottenham remain vulnerable when it comes to hanging on to their best players.
Although Bale, 21, only recently signed a new four-and-a-half-year contract, that won't protect Spurs when the tempting offers are made.
United boss Ferguson is planning a big summer spending spree and Bale fits the criteria of young Tottenham now ready to cash in on Bale outstanding players with years ahead of them.
SOURCE: Express
This source seems to contradict what has been stated repeatedly by the North London side in recent months. Harry Redknapp has made it clear he has no intention of selling any of his prized assets this summer and indeed if Tottenham do need to recoup some cash from player sales there are plenty of players in the White Hart Lane squad who could be sold to make ends meet.
Man United are said to be very interested in signing Bale as Sir Alex Ferguson looks to inject some youth into his squad this summer and the Old Trafford boss has also been linked with moves to Rafael Van der Vaart and Croat Luka Modric.
If indeed the financial constraints at Tottenham are so severe as to lead to player sales then the likes of David Bentley, Robbie Keane, Jamie O'Hara, Giovanni and Niko Kranjcar may more likely to be sold to make ends meet.