Emirates club set for new ownership.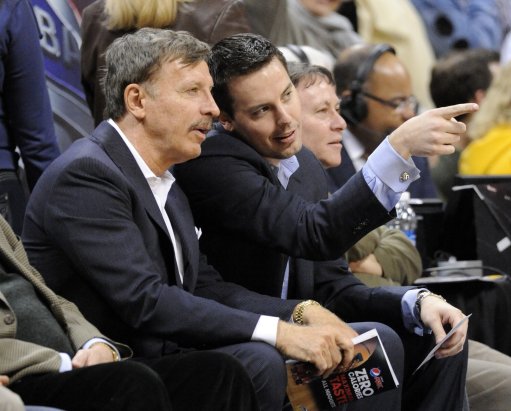 American businessman Stan Kroenke has increased his shareholding in Arsenal to 62.89% and agreed to make an offer for the rest of the club.
A full takeover was triggered after Kroenke Sports Enterprises acquired the stakes of Danny Fiszman (16.1%) and Lady Nina Bracewell-Smith (15.9%).
The terms of KSE's deal have been agreed and value Arsenal shares at £11,750 each and the club at £731m.
Kronke first bought 9.9% of shares in Arsenal in 2007.
"We are excited about the opportunity to increase our involvement with and commitment to Arsenal," said 63-year-old Kroenke, whose company also controls the NBA's Denver Nuggets, the NHL's Colorado Avalanche, NFL team the St Louis Rams, and Major League Soccer outfit the Colorado Rapids.
"Arsenal are a fantastic club with a special history and tradition and a wonderful manager in Arsene Wenger.
"We intend to build on this rich heritage and take the club to new success. I am delighted that Peter Hill-Wood has agreed to support us by continuing as chairman.
"We especially wish to acknowledge and thank the board, Danny Fiszman and the Fiszman family as well as Lady Nina Bracewell-Smith and her family for the confidence they have had in me over the past years and in allowing us to move forward in this more prominent role." (BBC Sport)
Could a takeover breath new life into the North London club? Will this lead to Arsene Wenger having more funds to play with in terms of making new additions? Clearly the issue or new ownership can always be a thorny one and there is always a feeling of unease that follows the installing of a new owner but by general consensus Stan Kroenke appears to have a great deal of support.
Having bought out Danny Fiszman and Lady Nina Bracewell-Smith's but now has to go about buying the remaining 27% of the club from Russian billionaire Alisher Usmanov.
"I have worked with Stan Kroenke at board meetings over the past couple of years and I believe he has the best interests of Arsenal at heart," said Gunners boss Arsene Wenger.
"He understands the club's heritage and traditions and our ambition to run the club in a way which protects our long-term future."
Under fire chairman Hill-Wood echoed Wenger's sentiments and said
"The board of directors and I consider it a key responsibility to protect the ethos and spirit of the club.
"Mr Kroenke, although relatively new to Arsenal, has shown himself to be a man who values and respects the history and traditions of this very special club that we cherish. We are confident that he will be a safe custodian of its future."
Peter Hill-Wood recently angered Arsenal Supporter's Trust (AST) by stating that they were responsible for "stupid comments from these silly people" in relation to a critical statement the AST made in relation to Arsene Wenger's management .