Find out how much the new Emirates owner is worth and how he made his fortune.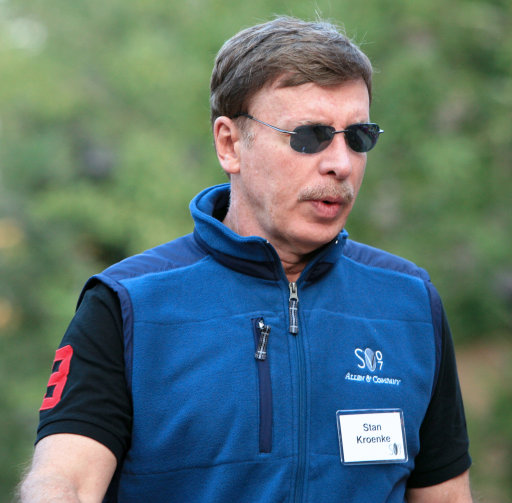 With help from our friends at the Guardian we have brought you the story of the new Arsenal majority shareholder, Stan Kroenke:
Born in Columbia, Missouri in 1947, and obtained a Bachelor of Arts, Bachelor of Science and a Masters of Business Administration from the University of Missouri.
Married to Ann Walton, part of the family which owns the Wal-Mart chain of shops.
Last year Kroenke became the majority owner of the St Louis Rams NFL franchise. Through his company Kroenke Sports Enterprises (KSE) he also owns the Colorado Rapids Major League Soccer team, the Colorado Avalanche NHL side and the NBA basketball team the Denver Nuggets.
Kroenke's worth is quoted at $2.9bn (around £1.77bn) in the 2010 Forbes List.
He is a somewhat reclusive man who stays out of the limelight. He his popularly known as "Silent Stan" because he almost never gives interviews to the press. He rarely interferes in his teams' day-to-day operations.
Made his substantial fortune mainly through real estate and constructing shopping centres, retail, business and residential developments.
KSE owns the Pepsi Center, which is home to the Avalanche and the Nuggets and is also an entertainment venue staging music concerts.
KSE opened Dick's Sporting Goods Park in April 2007 as the home of the Rapids. As well as an 18,000-capacity venue for field sports which also seats 27,000 for concerts, the complex also includes 24 playing fields for youth and adult sports and 200 acres for retail development and wildlife conservation areas.
Arsenal already had a technical link-up with Kroenke's Colorado Rapids when in April 2007 Granada Ventures, a subsidiary of ITV plc, had sold their 9.9% stake in Arsenal Holdings plc to Kroenke's KSE UK inc.<
Kroenke increased his shareholding in Arsenal to 62.89% by purchasing the stakes of Danny Fiszman and Lady Nina Bracewell-Smith, and agreed to make an offer for the rest of the club at £11,500 per share, valuing the club at £900million including debt.