New Emirates supremo aims to build on the club's existing success.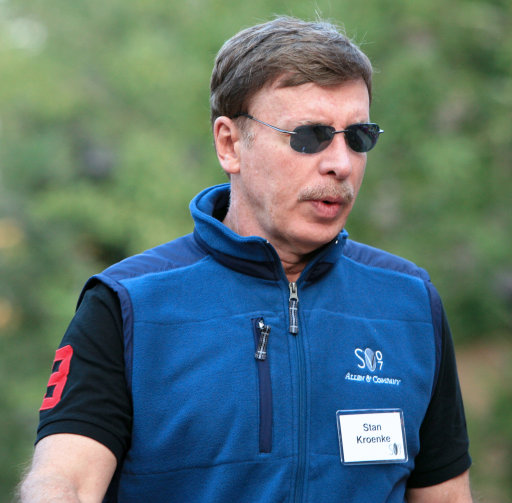 New Arsenal majority shareholder Stan Kroenke wants to build on the club's current structure as he outlines his vision for the future of the club.
The American businessman's company Kroenke Sports Enterprises (KSE) will seek to complete the full takeover of the club after increasing their stake to 62.89%.
As an Arsenal director, Kroenke has already been through the Premier League's 'owners and directors test'.
KSE has to provide the Premier League with a projected financial position to prove they can sustain the club for the next 12 months before any takeover can be completed.
Kroenke wants to continue to operate the club with its existing "self-sustaining business model" and will not fund the takeover with debt finance secured against the club.
The American will concentrate on purchasing the stake of Russian billionaire Alisher Usmanov, who controls 27% of the club's holding company.
Arsenal's independent directors – Peter Hill-Wood, Ivan Gazidis, Ken Friar, Sir Chips Keswick and Lord Harris of Peckham – will recommend shareholders accept Kroenke's offer.
Kroenke has asked the existing board to remain in place for the foreseeable future.
"I am delighted that Peter Hill-Wood has agreed to support us by continuing as chairman," Kroenke said.
"We especially wish to acknowledge and thank the board, Danny Fiszman and the Fiszman family as well as Lady Nina Bracewell-Smith and her family for the confidence they have had in me over the past years and in allowing us to move forward in this more prominent role."
Hill-Wood reacted to KSE's initial share purchase four years ago by saying Arsenal did not want Kroenke's "sort" involved at the club.
But he has been convinced that Kroenke knows and appreciates the 'Arsenal way'.
"The board of directors and I consider it a key responsibility to protect the ethos and spirit of the club," Hill-Wood said.
"Mr Kroenke, although relatively new to Arsenal, has shown himself to be a man who values and respects the history and traditions of this very special club that we cherish.
"We are confident that he will be a safe custodian of its future."