Maybe Arsene Wenger should have purchased another keeper in January?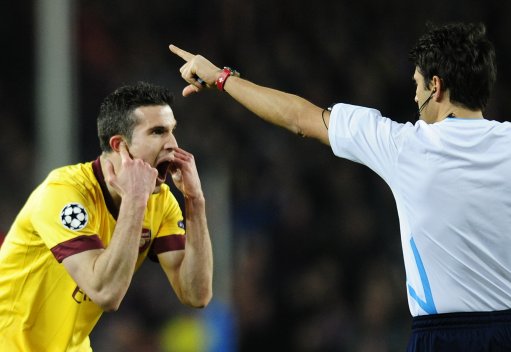 Arsenal's emergency goalkeeper Jens Lehmann avoided a red card and ended the match all smiles as Arsenal beat Blackpool 3-1 on Sunday to maintain their pursuit of Manchester United in the Premier League title race.
Lehmann, 41, who left Arsenal in 2008 and re-joined the club last month as emergency cover after retiring last season following a spell with Stuttgart, was called up to start the match after Manuel Almunia was injured in the warm-up.
He survived a possible sending-off after 52 minutes when he brought down Blackpool striker DJ Campbell in the penalty area.
Referee Lee Mason played the advantage as the ball ran on to Gary Taylor-Fletcher who scored for the home side who then threatened an equaliser which never came.
Asked afterwards if he feared being dismissed, the German keeper told Sky Sports: "I don't know—the rules sometimes change and I don't know if he had to send me off after I touched him."
If he had been red carded, Arsenal would have had to play Dutch striker Robin van Persie in goal as Lehmann's stand-in as Almunia was not among the substitutes.
"He is a very good goalkeeper, but he doesn't take my glove size," Lehmann joked afterwards, while Van Persie, who wrapped up the win with Arsenal's third goal replied: "It's true."
SOURCE: Reuters
Arsenal players seem more prone than most when it comes to injuries. Perhaps someone needs to investigate further as clearly the problem is once again hitting epic proportions. Lukasz Fabianski, Vito Mannone, Manuel Almunia and Wojciech Szczesny are all suffering varying degrees of injury and of Robin Van Persie is known for his many knocks.
Given that Jens Lehmann is no spring chicken, the veteran may also be liable to suffer an injury and then Arsene Wenger may have a real problem on his hands. The 41 year old slightly insane goalkeeper did pretty well against Blackpool but clearly may well have been sent off but that is a risk you take when employing the slightly unhinged German.
The decision to bring the nutty keeper back has been compounded by the decision to offer him the number 13 squad number!