Wembley chiefs agree new summer league to promote the women's game.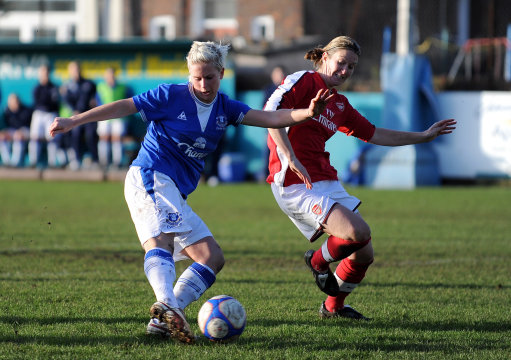 The Football Association have launched a new summer league for women in a move to professionalise the sport and attract girls and fans to the game.
The FA WSL (Women's Super League) will feature eight teams from across the country competing for the inaugural Super League title.
Arsenal, Birmingham, Bristol, Chelsea, Doncaster, Everton, Liverpool and Lincoln will play each other twice over 14 match rounds.
The semi-professional league will kick-off with Chelsea Ladies against Arsenal Ladies this Wednesday at Tooting & Mitcham's ground and it will be live on ESPN.
Football is the biggest participation sport among women and girls and 180,000 women aged between 16 and 34 want to take up the game according to an FA report.
England and Arsenal Captain Faye White was extremely excited for the new league to begin.
"I really can't wait for the new league to launch, it seems like we've been talking about it for some time and now it's really upon us," she said.
"This is a huge moment for women's football here and all the players are excited for what lies ahead.
"This will really push the game on and hopefully inspire the next generation of players to follow in our footsteps.
"I've seen the game develop so much since I first started playing, we've made huge strides in putting things in place to ensure the game thrives and this new league will really help us push that forward and take the game to the next level.
"It's a massive moment for everyone involved in woman's football."
David Bernstein, chairman of the FA, highlights the significance of the move to create the WSL.
"This is a true landmark in the women's game, a real opportunity for it to take off in England," he said.
"The launch of this league together with England competing in the World Cup in Germany makes for an exciting summer of women's football ahead."
The FA's Head of National Game, Kelly Simmons, realises the importance of turning women's football into a professional sport.
"Football is the most popular team sport for girls to play and we have over a million regular players throughout the country," she said.
"What has been missing in the sport until now was a clear pathway of progression for young girls who are good enough to play professionally and earn a living doing so.
"We believe the league will encourage many more young girls to get into and stay in football where they can see an elite structure at the very top of the game and the role models to inspire them."

Throughout the season, a weekly highlights show will be broadcast on ESPN alongside a dedicated website, www.fawsl.com, keeping fans up-to-date with the latest action and news from the league.