White Hart Lane club issue warning before return of Emmanuel Adebayor.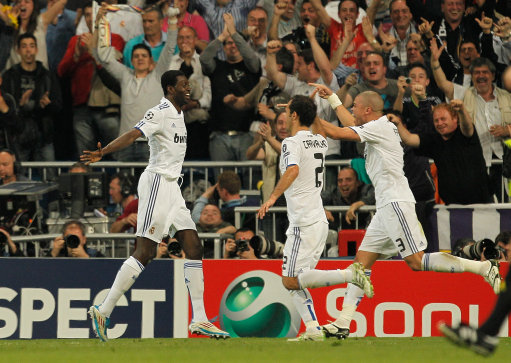 Tottenham Hotspur have warned their supporters not to repeat the offensive chants aimed towards Real Madrid striker Emmanuel Adebayor.
The Manchester City-owned hit-man scored a brace as Madrid thrashed Spurs 4-0 in the Champions League quarter-final first-leg.
The Galacticos head to White Hart Lane for the second-leg on Wednesday.
But Adebayor's claims he was racially abused by chants coming from the Tottenham supporters.
There is plenty of ill-feeling towards the Togo international following his three-years at neighbours Arsenal.
The chant labels Adebayor's mother a prostitute, while saying his dad washes elephants.
Tottenham accept the song is offensive but not racist, while anti-racism group Kick It Out condemned the chant, saying it has racial undertones.
The club have issued a statemtent saying any offensive chanting is forbidden and urged individuals to point out any tyroublemakers.
"We do not tolerate discrimination of any sort at the club, on the pitch or in the stands," a statement on the club website read.
"We have a fantastic atmosphere at the Lane and by working together we can prevent the small minority ruining it for everyone.
"You do not have to put up with mindless supporters who are intent on ruining your day, so use the system, report the individuals and let us take it from there."
Fans are urged to report any discrimination by text on 07766 553 225 or by email at safety@tottenhamotspur.com. All correspondence will be held in confidence.