Eastland's hero sidelined with injury for Wembley showdown against Old Trafford rivals.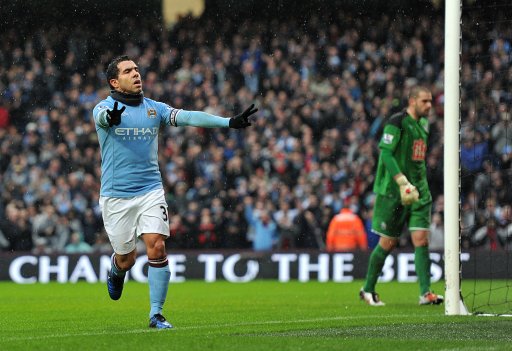 Manchester City striker Carlos Tevez has joined team-mate Micah Richards on the sidelines for this Saturday's FA Cup semi-final against Manchester United.
The Argentina international tore his hamstring in the 3-0 defeat to Liverpool last night, compounding a difficult night for manager Roberto Mancini.
The 27-year-old has been in fine form this season scoring 19 goals in 28  league games, helping his onto the verge of Champions League qualification for the first time.
Being without their captain and talisman is a double blow after losing defender Richards to a hamstring injury while he was playing for England U21s.
Mancini is devastated by the news as he searches for the club's first major trophy in 35 years but does expect to see Tevez again this season.
"I think that it is very difficult for (him to play on) Saturday," he told Sky Sports.
Mancini then confirmed the player's hamstring is torn but, asked if it would rule him out for the season, he said: "No, no, no. I don't think so."
"We'll try [to get him fit for the FA Cup semi-final] but we probably need two weeks. It is very difficult as it is only five days away."