Nou Camp player happy in squad rotation system and will not be going to Emirates, Stamford Bridge or San Siro.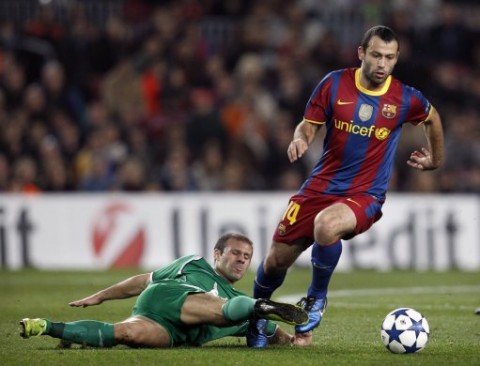 Barcelona midfielder Javier Mascherano is happy at the club and will not be leaving this summer according to his agent Horacio Zandonadi.
The 26-year-old joined the Catalan side from Liverpool nine months ago for £18million but has struggled to hold down a first-team place.
Arsenal, Chelsea and Inter Milan have all expressed interest in taking the Argentina captain to their respective clubs.
But recently Juventus, AC Milan and Roma have all entered the race to capture his signature but Zandonadi says they will all e disappointed.
"Mascherano is not moving from Barcelona and there is nothing to say about him going to Italy," Zandonadi told Italian radio station Mana Mana.
"Mascherano is playing for Barcelona, the best team in the world. What else could he ask for?"
"He wouldn't even consider his future if Juventus or AC Milan made an offer for him.
"As for Roma, why would they pay more than Barcelona? He is not leaving."