Emirates boss ready to use squad players as make-weights in deal.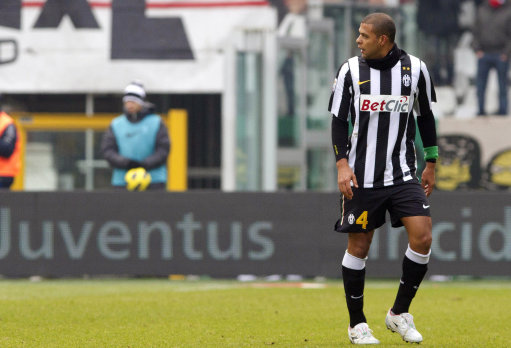 Arsene Wenger is repotedly readying a move for Juventus midfielder Felipe Melo as the Arsenal boss seeks to strengthen his midfield. The Brazilian international has enjoyed a turbulent spell in Turin and has been linked with interest from the Gunners before but now the French manager is ready to offer the choice of three of his under performing squad as part exchange in return for the £15m rated battler.
Wenger hopes to add more steel to a midfield that has been distinctly soft this season as Alex Song has failed to his the highs of last term and back up performers such as Denilson and Abou Diaby, who has also been used in a defensive holding role at times this season, have failed to impress.
Juventus boss Luigi Delneri has failed to reverse the slide the Old Lady of Italian football has been in the middle of for a few seasons now and as such are unlikely to clinch a Champions League spot for a second successive season and may be looking to make changes at the club.
Wenger will offer cash plus a choice of Abou Diaby, Denilson or Nicklas Bendtner in the hope of persuading Juventus to sell. The Serie A club have reportedly shown interest in both Denilson and Bendtner and could well do with reversing the ageing nature of the squad.
27 year old Felipe Melo is a much travelled defensive midfielder who is well known for his crunching challenges and could well be a good fit for the physicality of the Premier League. The powerfully built Brazilian has spent the past three seasons in Italy and prior to his move to Fiorentina spent three seasons in La Liga.