New Emirates owner will not buy the shares owned by the club's supporters.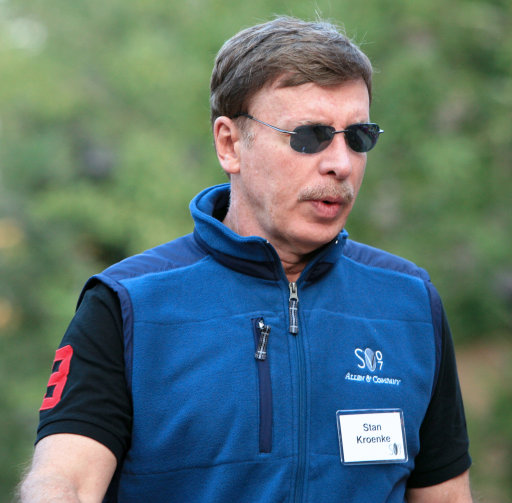 The Arsenal Supporters Trust (AST) have 'unanimously' voted not to sell their stake in the club to new majority shareholder Stan Kroenke.
The American businessman secured a controlling stake in the club on Monday after buying the shares of Danny Fiszman and Lady Bracewell-Smith.
He now owns 62.89% of the club and is obliged to make a mandatory cash offer for the remaining capital at £11,750 per share.
The Gunner's board recommended all shareholders to sell to Kroenke but the AST are reluctant to let one person control the club.
The fans do welcome Kroenke's investment but are encouraged by Russian businessman Alisher Usmanov plans to keep hold of his 27 per cent stake.
More than 100 AST memebers voted on Monday over the sale after meeting with Ivan Gazidis to seek assurances over Kroenke's vision for Arsenal.
They were encouraged by Kroenke's confirmation that his takeover will not be financed by debt secured against the club and that their support is strongly dependent on the retention of fan involvement in the ownership of the club.
"Arsenal is too important to be owned by any one person," an AST spokesperson said
"The AST wants to work with Stan Kroenke to keep Arsenal supporters involved in the club's ownership structure.
"The AST and the Arsenal Fanshare scheme will not be selling the shares it owns and urges all supporters to reject this offer.
"In just six months the Arsenal Fanshare scheme has gained 1800 members who have invested £500,000 in Arsenal shares.
"This scheme has been widely praised across the football community and is supported by the Government who are currently reviewing football's governance structures.
"AST is encouraged to hear Red & White plan to keep their shares. They have previously stated their long-term commitment to the club and this decision would be a good demonstration of that.
"The Arsenal board supported Arsenal Fanshare and Stan Kroenke was a member of the board at the time," added the AST spokesman.
"Stan Kroenke has also previously told the AST that he sees supporter shareholders making an important contribution to the club and that the AST provides 'independent perspective to the shareholders, board and management'.
"The AST spoke to Ivan Gazidis on Monday and he reiterated the importance he places upon fans' involvement in the club and stated his commitment to custodianship.
"The AST is encouraged that Kroenke's offer states that he does not intend to 'de-list' Arsenal from the PLUS markets.
"In the next few days we will seek further confirmation of his plans in this area and would like to see more detail on this subject in the formal KSE offer document."