Stamford Bridge boss on the brink.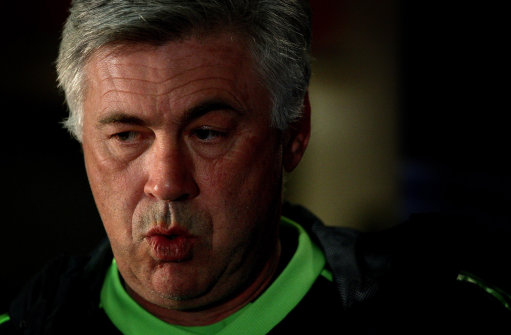 Owner Roman Abramovich's patience is believed to be at breaking point, with Turkey coach Guus Hiddink a likely candidate for a second stint at Stamford Bridge while Ancelotti has been widely tipped to replace on-trial Roma coach Vincenzo Montella.
But Ancelotti was adamant he would escape the axe and see out the remaining year of his contract, even if Chelsea go out to Manchester United and finish the season empty-handed.
'No, I do not fear this game may decide my future,' he declared. 'My future is already clear, because I have another 12 months on my contract, so I don't have a problem about this game.
'It's not important that I have to speak with Roman. When I have a contract, everything is OK with him. 'A lot of times, I played this kind of game with this pressure. But it's not pressure, it's excitement. To be involved in this game is fantastic for my job, for my career.
'So I'm not afraid. I'm not worried about this. I'm happy to be able to use my ability and skills, in a game like this, to bring out the best in my players.'
SOURCE: Daily Mail
Speculation is rife that Carlo Ancelotti's job is on the line this evening and that if the Blues fails to overcome that 1-0 home defeat at Old Trafford then the Italian will be booted out and replaced by former boss Guus Hiddink quicker than you can say arrivederci. Of course such action would be hasty given that the former AC Milan boss delivered the domestic double in his first season in charge but Roman Abramovich is not a man who takes failure well.
Hiddink has had an up and down time as Turkish national team boss and two defeats in his last three competitive matches as manager may have left a mark that may make an exit from the job more likely. Of course the 64 year old Dutchman was a big success in his last brief stint at the club when he won 15 and lost just one of 21 games in charge during the 2008/09 season that included an FA Cup triumph.
Chelsea have a mountain to climb tonight but the West London club have been scrapping a decent run together and are unbeaten in six Premier League matches and may feel that after losing the home leg last week that they have nothing to lose and may well spring a surprise that could save Ancelotti's neck.