Surely this admission will make him the butt of jokes from his team-mates for the next decade! We here at COS Towers have also seen the film, we also 'almost' cried, however we none of us are rock hard Serbian international centre backs who can bend steel with our mad stares! If you want to know what film the Old Trafford defender watched alone in a dark room before bursting into 'almost' tears, then read on….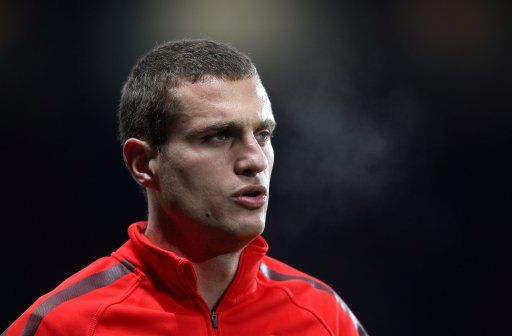 On the field, Nemanja Vidic looks every bit the hardened defender that has seen him lead Manchester United to European and domestic glory.
His strength and power have also seen him shortlisted for the PFA Player of the Year award.
But, away from the pitch, Vidic admits he loves a good tear-jerker and was taken in by The Notebook which earned a reputation for making grown men bawl.
'I know I have a reputation for being strong but I am only human,' the Serbian told United Review.
'I cry during very sad moments.There was one film – The Notebook – that really touched me too.
'I was watching it alone, sitting in the dark, and I got very involved in the story. I almost cried. Almost.'
SOURCE: Daily Mail
So there you have it. See below a trailer for the film that may persuade you to imitate Mr. Vidic and place yourself in a dark room with a box of tissues…oh hang on that didn't sound right.