Eastlands bad-boy tipped to become the star against Old Trafford rivals at Wembley.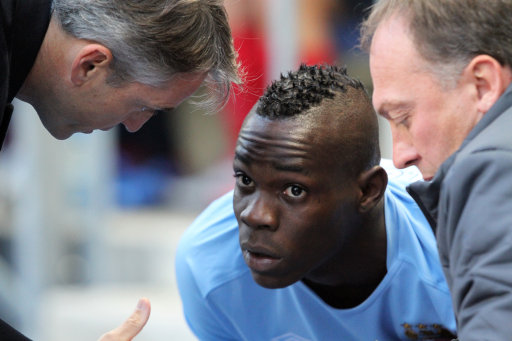 Manchester City manager Mario Balotelli is backing striker Mario Balotelli to dump Manchester United out of the FA Cup and become a Blues 'hero'.
City face United in the semi-final of the world's oldest cup competition at Wembley on Saturday but are unlikely to have Micah Richards or Carlos Tevez.
The Argentina international tore his hamstring during the 3-0 defeat to Liverpool, leaving strikers Edin Dzeko and Balotelli to fight it out for a starting place.
The 20-year-old has shown glimpses of his potential on the field, but a questionable attitude and a series of off-field incidents have City fans concerned.
Mancini wants the Italy international to win City their first cup final since 1981 and secure the club's first ever qualification into the Champions League.
"Mario knows he must take more responsibility," said Mancini.
"We have six league games, plus the semi-final and the final. I hope Mario can score important goals.
"He could be the hero. On Saturday, if he plays, he has a chance to do well.
"Maybe if he scores a goal it could take us to the final. That would change his year."