Old Trafford and Vicente Calderón Stadium chiefs deny any deal has been made for the shot-stopper.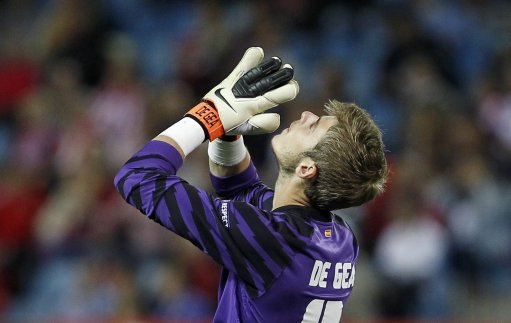 Manchester United manager Sir Alex Ferguson and Atletico Madrid chief-executive Miguel Angel Gil Marin have played down reports of a £25million move for goalkeeper David de Gea.
The 20-year-old is believed to be Ferguson's first-choice to replace the retiring Edwin van der Sar next season.
United signed Anders Lindegaard in January but with Tomasz Kuszczak also set to leave in the summer, Ferguson wants a new number one.
They have been linked with Schalke's Manuel Neuer and Maarten Stekelenburg of Ajax, but De Gea is their first choice.
Neither side has denied the mover is a possibility but both claim no agreement has been reached over the player.
"On Italian television I am supposed to be signing two players from Italy tonight, so I can place that story along with those," Ferguson said.
"There is always speculation about who we are going to sign. So many people throw names at me. I can't answer it."
Marlin expects De Gea to be an Atletico player next season and has dismissed suggestions agent Jorge Mendes was in England to complete the De Gea deal.
"Mendes is in England, but it is for nothing related to De Gea," Marlin told Spanish newspaper AS.
"He doesn't have any power from Atletico to negotiate for the player.
"At the end of the season we will see if he [De Gea] goes or if he remains.
"If he wants to go, we will refer to his buy-out clause. As of today, Atletico count on him for next season."