Positive attitude or deluded maniac?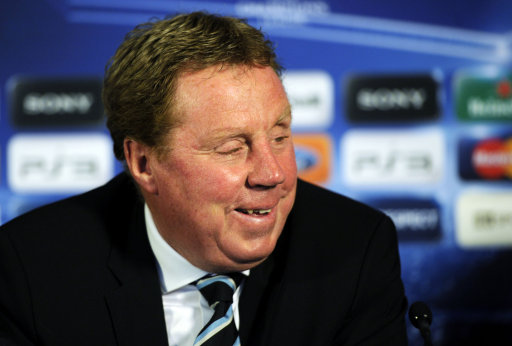 Tottenham manager Harry Redknapp has said his team can pull off a "miracle" Champions League comeback against Real Madrid at White Hart Lane on Wednesday.
Spurs go into the quarter-final second leg trailing 4-0 from the first match.
"We know it would take a miracle but miracles can happen," said Redknapp. "If we play very well you never know."
No side has ever recovered from a 4-0 first-leg defeat to progress in the competition but Redknapp joked he would settle for a penalty shoot-out.
"I'd take penalties, we have been practising," he said.
Spurs have already produced some thrilling fightbacks in an entertaining debut season in the Champions League.
They rallied from 3-0 down in the qualifying round against Young Boys to make the group stage.
Then, faced with a 4-0 half-time deficit to Inter Milan at the San Siro, Gareth Bale led the fight-back with a memorable hat-trick before they eventually lost 4-3.
But despite needing to score four unanswered goals to take the quarter-final tie into extra-time, Redknapp said it would be dangerous for Spurs to adopt a gung-ho approach.
"Everyone says we have to attack them but you are playing against world-class players, so you don't want to keep bombing everyone forward and getting ripped open on the counter-attack," he said.
"So long as we play well and give it everything we have I can't ask for anything more.
"We have to see if we can win the game and see how the game develops." (BBC Sport)
To be fair to Harry, what else can he say? Clearly he believes his side can pull off the shock of the century tonight and if he didn't say that, he would get lambasted. Clearly he has learned something from Arsene Wenger after his defeatist claim that 'second would be no disaster'. If the North London side can grab an early goal then have the crowd back them, perhaps there is a slight chance of progress?
Tottenham are 33/1 to qualify at the moment, which is a pretty poor bet but given the circumstances I would say it's well worth a flutter on the White Hart Lane side winning on the night. Also regardless of what happens tonight Harry Redknapp has had a terrific tournament and will hope to be eating from the top table again next term.