Anfield manager thanks Eastlands supporters for observing minute's silence.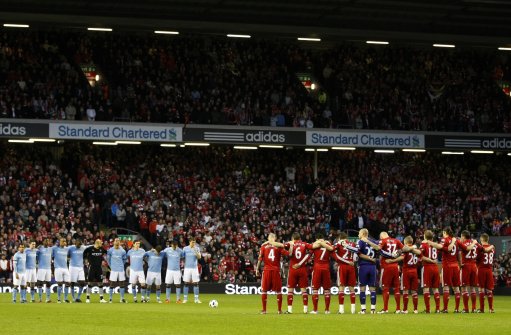 Liverpool manager Kenny Dalglish has hailed Mnachester City supporters for their impeccable behaviour during Monday's minute silence.
Anfield remembered the 22nd anniversayr of the Hillsborough disaster as well as paying tribute to Lance Sergeant Mark Burgan and David Fairclough's wife, Jan.
The painful memeories of Hllsbourogh, where 96 Liverpool fans died, was marked by the silence by everyone inside the ground.
Burgan was killed while fighting for his country in Afghanistan last month while Jan Fairclough had suffered a brain aneurysm on Saturday.
Dalglish says City fans deserve a huge amount of praise for their respect shown in what is a difficult period.
"This week is the 22nd anniversary of the Hillsborough disaster," Dalglish wrote in the LFC weekly.
"At the game on Monday night the minute's silence for those 96 fans, and also for soldier Mark Burgan and David Fairclough's wife Jan, was brilliantly honoured.
"We'd like to thank the City fans for that. They deserve a great amount of credit for their behaviour. It shows that people can put aside their football rivalries."