Possible leak of Arsenals 125th Anniversary Away kit.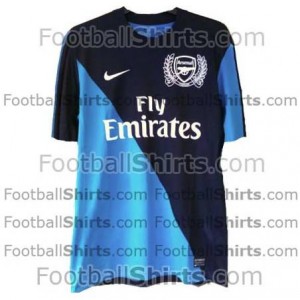 The shirt design is a Monaco halved template, using both light blue (cyan) and dark blue. The Nike logo, club crest and sponsors logo are in all white. That club crest is a special one off for the 2011/12 season, to celebrate the club's 125 years. The crest includes the year 1886 when the club were formed as Royal Arsenal and 2011 today, there is also the club's original motto; Forward.
Source: Football-shirts.co.uk
It seems Arsenal are to have another set of beautiful kits next season, continuing the great job Nike have done for Arsenal in recent seasons. This picture was apparently leaked from a reliable Arsenal insider (who has been right about future kits in the past). This Kit grows on you the more you look at it and although there will be comparisons with the Monaco style template, you cant argue that the kit is unique. Its nice to see a change once in a while and this shirt certainly does that.
What do you think of the Shirt? Would you like your team to have a more adventurous template? Voice your opinion here.