Old Trafford legend winds up the Eastlands opposition ahead of Wembley showdown.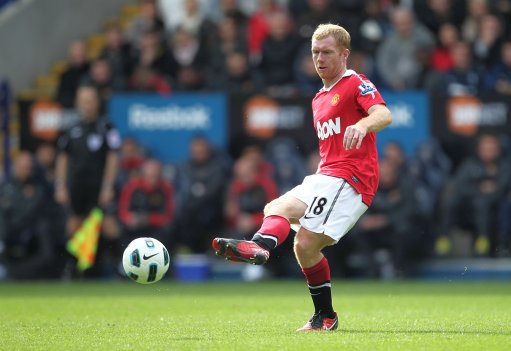 Manchester United midfielder Paul Scholes insists Manchester City are not Premier League contenders until they win a major trophy.
The 36-year-old will lock horns with his neighbours on Saturday in the FA cup semi-final at Wembley.
United need a win to prolong their treble ambitions while City are despeate to end a 35-year wait for silverware.
Scholes says the Eastlands side lack the belief of United and dismisses them them as genuine title contenders.
"When they are fourth or fifth, I don't think they can be classed as a main rival," he said.
"Our main rivals are obviously Arsenal and Chelsea. I think City are just a rival because of where they are (geographically). Liverpool is the same."
"With them getting the money, it has probably helped us and spurred us on a bit more when we have played them," added Scholes.
"There has been nothing to choose between us in the last five or six games.
"They will obviously be p***ed off that they have only managed to beat us once [under Sheikh Mansour's ownership] and that game was a Carling Cup semi-final first leg, with us having another game to make up for it.
"We have nicked the games with goals in the last minutes. I've done it, Michael Owen's done it and Wayne Rooney did it last season.
"That's maybe the difference between the two teams.
"We have a belief that we can beat anybody, but if City have that, I'm not too sure. But their spending is not our problem is it?"