Former Gunners star concerned for North London club's long term future.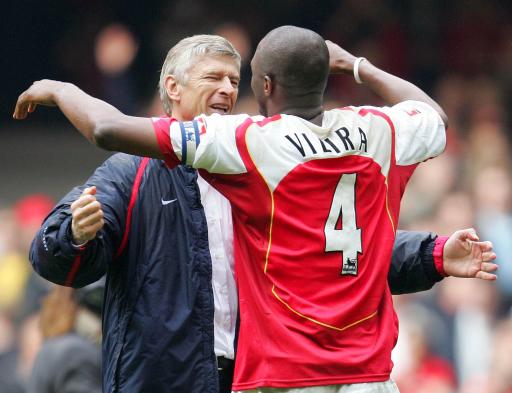 PATRICK VIEIRA has warned Arsenal they could lose Cesc Fabregas AND Robin van Persie unless they win silverware soon.
The Gunners legend has looked on in horror as Arsene Wenger's push to end five barren years has stumbled and faltered.
And he believes unless Wenger delivers quickly, key men Fabregas and Van Persie will leave in search of trophies.
Manchester City midfielder Vieira said: "These days I follow Arsenal as a supporter in England.
"I love watching them play and the Arsenal players are doing the right things but you have to add something to that – notably in physical impact.
"In my day Adams, Keown, Winterburn or Parlour might have had less quality but they would put their heads where others wouldn't put their feet."
"The problem is the important players like Fabregas and Van Persie will end up asking themselves questions."
SOURCE: The Sun
Patrick Vieira does of course have a point and his concerns are no doubt echoed by the club's supporters who could see the club complete six seasons without a trophy come May and one wonders what Arsene Wenger will do to correct the down turn. Perhaps more worrying than recent failures is the recent assertion from the Gunners boss who stated that 'finishing second is no disaster".
That sentiment has angered many Arsenal fans who feel that such defeatist statements will only serve to make the likes of Cesc Fabregas and Robin Van Persie wondering about their future at the Emirates Stadium. The likes of Samir Nasri and Jack Wilshere may also be a little anxious about the direction the club is taking.
It is all very well planning for the future, but at some point that future has to amount to something. Having a financial stable club is of course important but so is continued success. Wenger has continually looked to use Man City as an antithesis of how a club should or shouldn't be run, as though there is no middle ground between continually scouting out unknowns and youngsters that can then be honed into household names and spending stupid money on big names.
Arsenal supporters almost all seem to want to see the club bring in some established names to help fill problem areas, they don't want the club to spend crazy money, they just want there club to be challenging for titles, just like they were only a few short years ago.