Eastlands boss keen on Anfield star.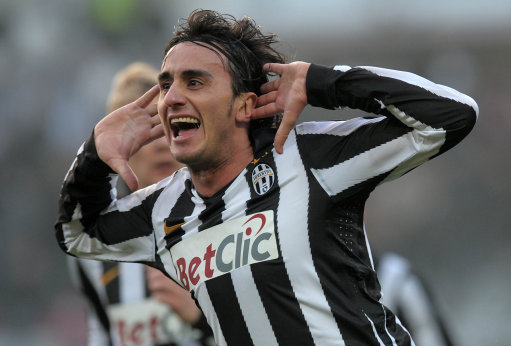 Manchester City are planning to make an offer to sign Liverpool Alberto Aquilani this summer. Roberto Mancini is known to be an admirer of the Italian international and hopes to lure the creative midfielder to Eastlands but will first have to persuade Kenny Dalglish to sell to a rival to their top four ambitions.
Currently on loan at Juventus, 26 year old Aquilani is thought to be keen on securing a permanent deal with the Serie A giants, however the Turin side are as yet unwilling to meet the €16m (£14.5m) fee that Liverpool are looking for which has led to Mancini's move to enter the race to sign the former Roma man.
Alberto Aquilani arrived at Liverpool last term whilst still injured and when fully fit was strangely overlooked by Rafa Benitez and made just nine Premier League starts and was then taken on a season long loan by a Juventus side looking to recapture their place at Italy's top table under the new management of Luigi Delneri. However the Old Lady of Italian football have had a poor season as a whole and currently sit in seventh spot.
Aquilani's personal form has though been consistent and noteworthy and has led to a recall to the Italian national team and much interest from prospective buyers with the likes of Inter and AC Milan both supposedly keen on the Liverpool man.
Kenny Dalglish's return to Anfield has led to a huge improvement from midfielder Raul Meireles and Lucas and therefore makes the chances of Aquilani returning to Merseyside seemingly unlikely. Man City boss Roberto Mancini is seemingly keen to add a more cultured edge to the centre of his midfield to sit alongside the more aggressive combative abilities of the likes of Nigel De Jong and Patrick Vieira.
Aquilani's is adept as a holding midfielder as well as being able to link midfield and attack in a more offensive manner make him a very attractive proposition. Summer signing James Milner has not had the best of seasons and Mancini may feel that the Italian international has more to offer.