Bernabeu boss blanks journalists.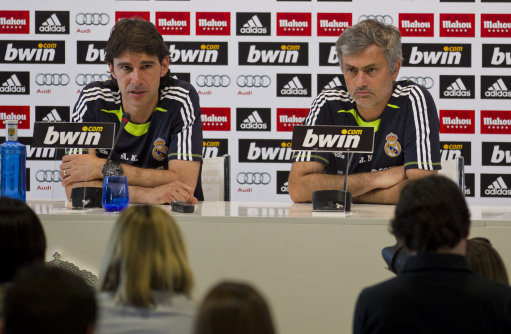 Real Madrid coach Jose Mourinho's refusal to speak to the media ahead of Saturday's game against Barcelona prompted a walkout by journalists.
"Mourinho doesn't want his words blown out of proportion," said the Real coach's assistant Aitor Karanka.
"He doesn't want to be the one who raises the temperature."
Barca are eight points clear of Real in La Liga, with the two sides also due to meet in the Spanish Cup final and two legs of a Champions League semi-final.
About 30 Spanish journalists walked out when it was announced that Mourinho would not be speaking to the media.
Mourinho sat next to Karanka as the former Real defender answered questions at a media conference broadcast on live television and radio.
The former Porto, Chelsea and Inter Milan coach has antagonised journalists in Spain since his arrival at Madrid at the end of last season by reducing their access to players and training.
After Saturday's league match the two clubs will meet in the Copa del Rey final on 20 April, which will be followed by their Champions League semi-final – with the first leg at Real's Bernabeu stadium on 27 April and Barca hosting the second at the Nou Camp on 3 May. (BBC Sport)
This is odd but not a total surprise. Jose is of course a crown prince when it comes to mind games, Sir Alex still holding the crown of king, and one wonders whether Pep Guardiola will adopt a similar strategy at his press conferences and media events or perhaps he will choose to conduct those occasions in Swahili?
If Jose didn't want to 'raise the temperature' ahead of these massive Clasico fixtures, remember there are four of them in the next couple of weeks, then he could of course just conduct his press conference in a manner that doesn't 'raise the temperature'. You could argue that by adopting this stance he has in fact added a whole new angle to the proceedings and hasn't actually helped to 'cool the temperature' at all.
And anyway, why does he not want to raise the temperature? These fixtures are eagerly anticipated and all around the world people are gearing up for blood and thunder matches between two of Europe's best sides with it all to play for. Bring it on!