White Hart Lane youngster selected by his fellow professionals as the player of the year.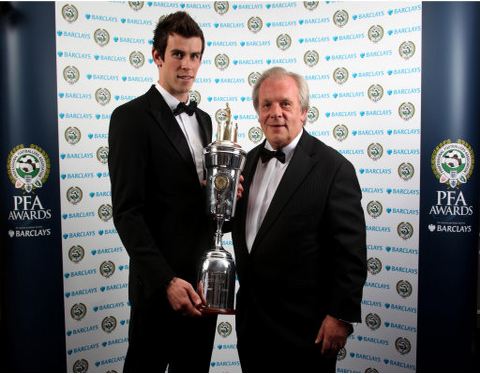 Tottenham's Gareth Bale has been voted player of the year by the Professional Footballers' Association.
The 21-year-old has scored 11 goals in 36 games for Spurs this season.
Bale, who is the fourth Welshman to win after Ian Rush, Mark Hughes and Ryan Giggs, said: "It is a honour really when you look at the names that have won it before and it just makes you go 'wow' really."
The young player of the year award went to Arsenal's Jack Wilshere.
In winning the player of the year award Bale beat competition from Charlie Adam, Samir Nasri, Scott Parker, Carlos Tevez, Rafael van der Vaart and Nemanja Vidic.
"I am more than delighted really," he said. "It is a massive award and it is a great honour to receive, especially from other fellow professionals. (BBC Sport)
It would be hard to argue with this selection given the great season the young Welshman has had and it appears the Tottenham winger's fellow professional thought likewise even up against strong competition the 21 year old triumphed to cap what has thus far been a hugely successful season on a personal level and the former Southampton man will hope he can guide his North London side to a top four finish before the season is out.