Roberto Mancini keen on bringing Old Trafford star to Eastlands.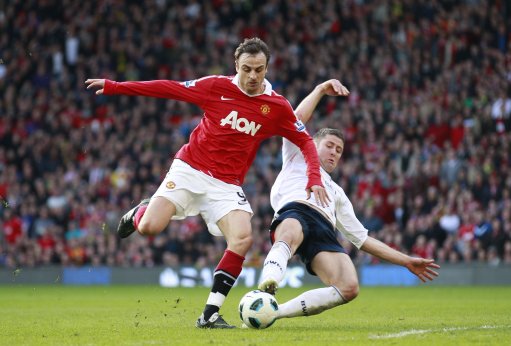 Manchester City are reportedly interested in signing Dimitar Berbatov if the Bulgarian chooses to leave Old Trafford this summer. The Premier League's top scorer has been left on the bench in recent weeks and it appears that Sir Alex Ferguson prefers to partner the young pairing of Wayne Rooney and Javier Hernandez than rely on the former Tottenham man.
Roberto Mancini is likely to sell Emmanuel Adebayor and Roque Santa Cruz and there are concerns that Carlos Tevez may once again push to leave Eastlands amid reported interest from Italy, that could leave the Man City looking for new attacking options, not least because Mario Balotelli and Edin Dzeko have not settled in all that well since their arrival at the club.
Of course Man City bought Carlos Tevez in the summer of 2009 after the Argentine's first team options were reduced and Berbatov may well feel a similar move may be of interest.
The 30 year old striker has netted 21 Premier League goals this term but has started just two of the last seven Premier League games as Ferguson has opted for alternative options despite Dimitar Berbatov being the Premier League's top scorer, a situation that has left contract talks up in the air with just over a year left on his current contract.
Mancini is especially keen to bring in effective striking options and the collective total of seven Premier League goals netted by Emmanuel Adebayor, Edin Dzeko and Mario Balotelli has left the Italian depending far too much on Carlos Tevez.