Could White Hart Lane boss be set to take over at Stamford Bridge?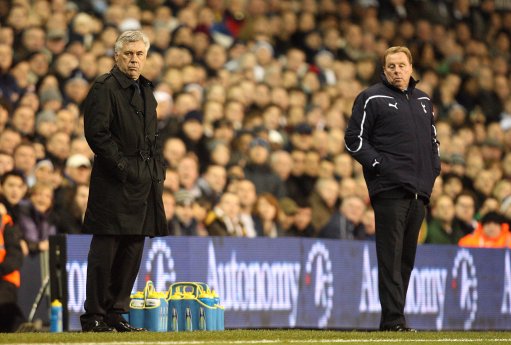 HARRY REDKNAPP has emerged as the amazing name in the frame to replace Carlo Ancelotti as Chelsea boss.
Blues owner Roman Abramovich is considering a number of options if he sacks Ancelotti – including turning to a British manager.
That would leave Redknapp way out in front of the pack. He has been tipped to replace Fabio Capello as England coach, but is ready to turn down the call from his country.
SOURCE: News of the World
Whilst it may well be the case that Carlo Ancelotti will be axed in the summer, and recent comments from the Blues boss suggest that Italian is aware of his impending fate, the chances of Harry Redknapp becoming the next Chelsea boss are so remote as to be non-existent.
Quite how this report came about is beyond me but one would imagine it is the result of a booze addled 'journo' with a great deal of imagination and a lack of common sense. The Tottenham boss may have been linked with the soon to be vacant England post but he isn't about to join the West London rivals of his current employers.
Ancelotti may have won the domestic double in his first season in charge of Chelsea but that appears likely to count for nothing and a move to Roma seems on the cards, not least because the Stadio Olimpico side has opted for a short term solution to the sacking of Claudio Ranieri by opting to hand the caretaker role to former striker Vincenzo Montella.
Carlo Ancelotti was a big succes at Roma as a player and would probably opt for a move back to the Serie A side if indeed he was axed, it seems less likely he would quit as to do so would probably result in the loss of a great deal of cash he would make from being given the chop midway through a lucrative contract.
Tottenham boss Redknapp may have other concerns. His North London side could become the victim of it's own success. Having grabbed a top four spot last season, very much against the odds, and then followed up that triumph with a great run in the competition, some sources believe that if a second successive top four finish is not achieved then big names like Gareth Bale, Rafael Van der Vaart, Luka Modric and Aaron Lennon may look to leave the club.